Eric Pickles asked to start compulsory purchase proceedings on grounds of neglect after Henderson's £160m was rejected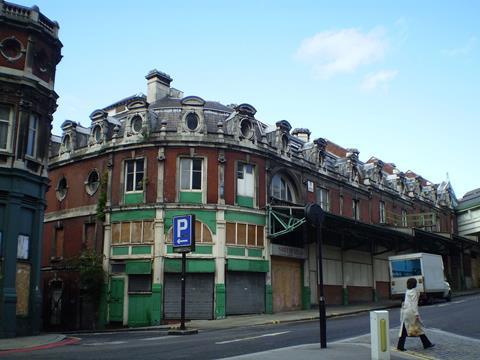 Save Britain's Heritage has written to communities secretary Eric Pickles asking him to begin compulsory purchase proceedings against the owners of Smithfield Market in London.
Director Clem Cecil and president Marcus Binney say they are "dismayed" by the response to Pickles' decision to reject Henderson's £160m redevelopment plans, drawn up by John McAslan & Partners, following this year's public inquiry.
They argue that compulsory purchase is necessary because leaseholder Henderson and freeholder the City of London Corporation appear to be doing nothing to prevent the further deterioration of the Victorian buildings.
"It could be regarded as cynical when an owner does nothing," said Cecil.
"They kept saying they love these buildings. Well let's see them put that love into action."
The corporation came in for strong criticism from Pickles who said in his decision notice after the public inquiry: "The deteriorated state of the buildings is, at least in part, the result of the history of deliberate neglect."
Despite this Henderson vowed to sit on the site. Head of development Geoff Harris said at the time: "This decision will condemn these disused historic buildings to continued decay and yet further uncertainty."
Now that the time limit for a judicial review has passed, Cecil and Binney have written to Pickles urging him to intervene.
"The building remains vulnerable as winter approaches, particularly as the roof over the canopy across the street has been removed," they said.
"We consider that an initial letter from you stating an intention to do this would have a salutary effect and might prompt action and decisions which otherwise may take months or years to achieve."
They point out that they have a viable alternative scheme backed by developer Cathedral Group, market entrepreneur Eric Reynolds and architect John Burrell.
Postscript
Read Save's letter - see attachment on the right