Developer provides update on planned schemes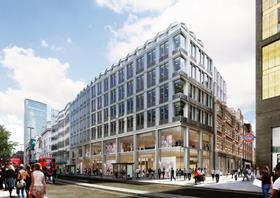 Great Portland Estates has provided an update on its development pipeline, in half-year results released this morning.
The pipeline contains £263m of committed schemes, which could rise to £489m if other near-term uncommitted schemes are started.
The pipeline schemes in full –
73/89 Oxford Street (pictured), W1, demolition works are expected to commence in early 2015 on achieving vacant possession for the development of 33,500 sq ft of retail space which sits directly opposite the Dean Street entrance to the Tottenham Court Road Crossrail station.
Oxford House, W1, a planning application will go in during the first quarter of 2015 for a 91,200 sq ft major refurbishment scheme of the mixed-use property, incorporating a significant increase in the retail space.
Tasman House, 59/63 Wells Street, W1, a planning application will be submitted by the end of the year to replace a tired 1950′s building with 38,100 sq ft of new office and retail space.
148 Old Street, EC1, plans are being worked up for the major refurbishment of the existing 97,800 sq ft building to create around 151,700 sq ft of high quality office space. GPE expect to achieve vacant possession prior to next summer.
Hanover Square, W1, plans for a 207,200 sq ft development scheme, owned in our 50/50 joint venture with the Hong Kong Monetary Authority, for a potential start in 2016 on delivery of the station structure by Crossrail.
Toby Courtauld, chief executive, said: "London continues to consolidate its position as one of the world's most successful city economies: jobs are being created at the fastest rate in a generation across a range of industries; the capital's businesses are investing for growth; and its appeal as an investment destination of choice continues unabated."