Developer considers starting on six new London scheme within next year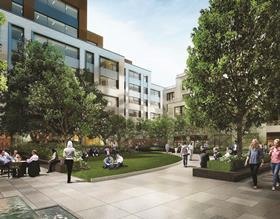 Great Portland Estates (GPE) is considering committing to starts on six new London schemes within 12 months, the developer said in a trading statement.
GPE said it had made "good progress" preparing the six "near term" schemes for construction, which total 305,600 sq ft and include the redevelopment of 73-89 Oxford Street and 148 Old Street.
The developer has also amassed a longer term pipeline of schemes covering 1.3 million sq ft.
The developer is currently on site on a number of major schemes including 411,200 sq ft mixed-use scheme Rathbone Place (pictured).
Chief executive Toby Courtauld said: "We are pleased to report a strong start to this financial year, with our attention focused on capturing the material organic growth potential from our 100% central London portfolio: we have made good progress across our 2.3 million sq ft development programme, winning new planning permissions and starting our largest ever development at our 411,200 sq ft Rathbone Square scheme at the east end of Oxford Street; we continue to lease well, attracting numerous businesses to our well designed, centrally located properties at rates ahead of ERVs; and our disciplined capital recycling has crystallised strong surpluses.
"With a growing London economy and healthy demand for our limited quantity of available space, we can expect further rental and valuation growth which bodes well for our significant development programme".