Deals worth an estimated £90m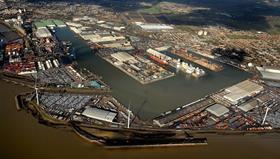 Graham has landed a brace of deals worth an estimated £90m to carry out work to build a new port in Essex.
The Port of Tilbury (pictured) has appointed the firm to build its new terminal – called Tilbury2 – which transport secretary Chris Grayling gave development consent to earlier this year.
No official value has been given for the jobs but the land-based deal had a £65m pricetag when originally advertised with the marine package worth a further £25m.
The contract will involve building a new port terminal and associated facilities on land at the former Tilbury Power Station on the north bank of the River Thames at Tilbury.
When operational next spring, Tilbury2 will be the UK's largest unaccompanied freight ferry port, the country's biggest construction processing hub and will see the creation of a new significantly larger rail head.
Land works include highway works, relocating an existing railhead and a fixed structural steel bridge.
The marine contract includes a floating pontoon, associated piling work and river bed preparation for the berth.