New complex at Meadowbank set to open next year
Graham has won a £39m contract to build the new Meadowbank sports centre in Edinburgh.
The city council chose the contractor to build the new centre, which is being built on the site that was occupied by the original Meadowbank facility for more than 50 years.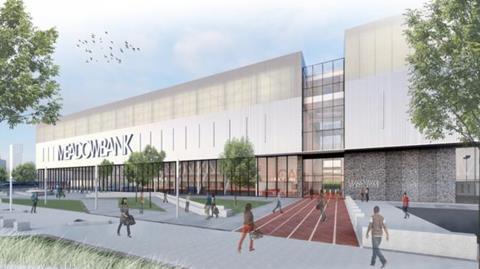 The job was awarded using the council's contractor works framework, with Graham outrunning other firms who have places on the lot that covers projects worth more than £5m.
The other builders who are on the list are Morgan Sindall, Bam, Northern Irish firm McLaughlin and Harvey and two local contractors, Glasgow firms Central Building Contractors and City Gate Construction.
The facility, which has been designed by London-based Holmes Miller Architects and given planning approval last July, is set to include an outdoor athletics track with a 500-seat stand and outdoor throwing and jumps area, as well as an indoor athletics track and jumps space.
It will also feature two multi-sport games halls, three fitness studios, a gymnastics hall and a combat studio for martial arts.
The new facility, which also features two synthetic pitches, is due to open in 2020.