Government gives green bank more money in its spending review settlement after the banks borrowing powers were delayed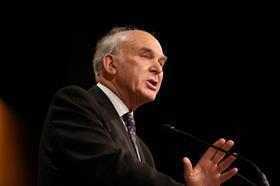 The government has given the Green Investment Bank an additional £800m as part of the spending review after the banks borrowing powers were delayed by a year.
The extra £800m will be handed to the bank in 2015-16 as part of the government's settlement on capital spending budgets.
It follows a change to the forecast for when debt will be falling as a percentage of GDP in the autumn statement last October that meant the bank cannot borrow money on the open market until 2016-17, not 2015-16 as originally predicted.
Business secretary Vince Cable said the settlement showed the government had "a credible growth story".
He added: "The settlement we've achieved for this spending round does exactly that by prioritising and protecting activities that are key to growth. We have secured a robust funding package for science and innovation, skills and apprenticeships and more money for the regional growth fund, creating jobs outside of London, and the Green Investment Bank."
The Green Investment Bank already has £3bn of capital from the government and will be allowed to carry over £500m of this funding into 2015-16 to fulfil commitments it has made in the period up to 2015.