Bank's first investments go to energy from waste and retrofit projects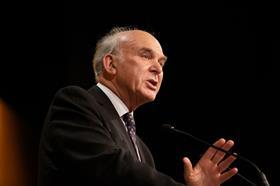 The Green Investment Bank opened for business today with its first two investments going to a small scale energy project and a retrofit project.
The bank, which has been funded with £3bn of government money, has put £8m into an energy from waste plant project in the North East and a £5m investment in an industrial retrofit project.
The investment in an anaerobic digestion plant in Teesside is part of a £80m investment programme in small scale energy projects. While insulation manufacturer Kingspan UK received £5m to help retrofit its industrial facilities to reduce their energy consumption by up to 15%.
Business secretary Vince Cable said: "Three billion pounds of government money will leverage private sector capital to fund projects in priority sectors from offshore wind to waste and non domestic energy efficiency, helping to deliver our commitment to create jobs and growth right across the UK."
Lord Smith, chair of the Green Investment Bank, said: "The Green Investment Bank has the potential to be a game-changing component of the UK's low carbon economy, and a profitable centre of excellence in specialist and renewable investment."