The major regeneration project in Maidenhead is set to be completed in time for Crossrail in 2019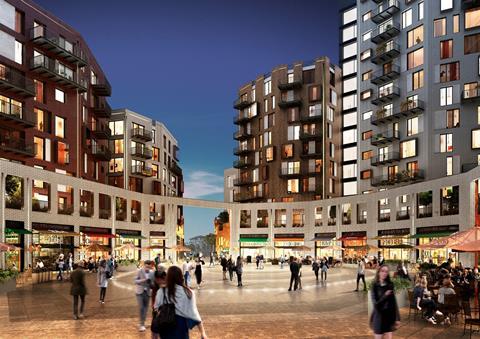 A major £250m regeneration scheme in Maidenhead has been given the go-ahead, paving the way for the project to be delivered in time for the arrival of the town's Crossrail services in 2019.
The scheme is being brought forward by Ryger Maidenhead Ltd – a joint venture between property developers London & Aberdeen Group and Norwegian investors Smedvig – which started the development after acquiring the site from ING RED in December 2013.
'The Landing', a 600,000sq ft development of new homes, offices and retail space, has been granted planning permission by councillors at the Royal Borough of Windsor and Maidenhead.
Designed by architects Studio Egret West and Allies & Morrison, the scheme will provide 260,000 sq ft of Grade A office accommodation, 225 new homes and 48,000 sq ft of retail space, set around a central plaza.
Work on the scheme is expected to be completed by 2019, in time for the opening of Maidenhead's Crossrail station located 100m from the site.
Doug Higgins, managing director at London & Aberdeen Group, said: "This is a major step forward for Maidenhead and our vision will help reinvigorate the town centre and capitalise on Maidenhead's status as a future Crossrail destination.
"The Landing will occupy a prime site between the station and high street and set a new standard for urban design in the Thames Valley, providing office accommodation suitable for major HQs, as well as homes and high-quality shops and restaurants."