Former boss also quizzed on 'cheap, incompetent subcontractors' comments and claim one firm was 'too good' for the job
A senior staff member at the main contractor behind the Grenfell Tower refurbishment has accepted it lacked the ability to properly scrutinise design proposals for the project.
Simon Lawrence, who was contracts manager for Rydon for much of the refurbishment project, made the admission at the end of his fourth day of evidence to the inquiry into the 2017 fire at the west London block, which claimed 72 lives.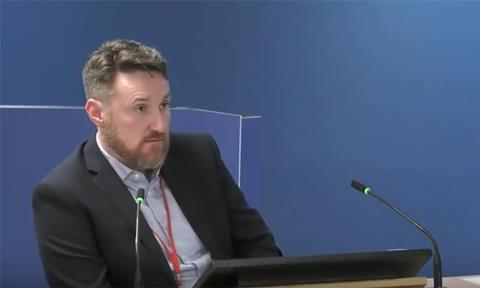 Lawrence, who left his role at Rydon in late 2015, responded to many lines of questioning during his evidence by highlighting that the firm had relied on the expertise of architect Studio E, facades specialist Harley and Kensington & Chelsea Council's building control officers to make sure that details of the refurbishment project were right.
But asked on Wednesday what he would have done differently on the project, Lawrence admitted that more design expertise had been required.
Lawrence said: "In hindsight, I think it would be good to employ – whether directly or indirectly – some more technical … as in design… ability to check the design. Over and above the designers that we already had. That's one thing." He did not list further areas.
Earlier in the day, inquiry barrister Richard Millett quizzed Lawrence on an email he sent to one of Rydon's site managers that suggested a contractor the firm had previously worked with was "too good" for the Grenfell Tower refurbishment.
The January 2015 message to colleague Alan Grint said: "I'm hearing from other sites that SD Carpentry do a really good job but are slow. As much as it pains me to say it, their standard of work may be too good for what we need in refurb."
The email concluded: "We may have to let them to do the new flats only and get another to do the internal works."
QC Millett said the sense conveyed in the email was that a lower standard of work was acceptable in the Grenfell Tower refurbishment.
Lawrence rejected the suggestion, saying specialist carpentry firms were not suitable for onsite carpentry work and were typically slower than firms that routinely fitted and trimmed windows.
He insisted the standard of work he was looking for was what Rydon had previously done on other refurbishments. He said he believed it had been a "good standard of work".
Later, Lawrence was presented with an email he sent to Rydon refurbishment director Stephen Blake in June 2015 in which he suggested he had not "seen any budget for Grenfell in the last eight months at least" and accepted that the site was "poorly performing".
In the email, Lawrence blamed the site's problematic performance on "poor surveying and cheap, incompetent subcontractors" as well as onsite management changes.
Asked about the email by Millett, Lawrence said he had been "having a general vent" in the mail and could not remember which subcontractors he was referring to. He said the poor performance he referred to was "probably to do with orders and getting subcontractors on site".
On Tuesday, Lawrence was asked about evidence from David Gibson, head of capital investment at project client Kensington & Chelsea Tenant Management Organisation, who said Rydon's then contracts manager had assured a 2015 meeting that the cladding proposed for Grenfell Tower would be "inert".
Lawrence said Gibson's recollections were wrong. He added: "I wouldn't give technical assurances unless I had that information from the designers or specialists."
Asked by Millett whether he recalled ever asking original refurbishment architect Studio E or fire safety consultant expert Exova about the "inertness or ertness" of the cladding proposed for Grenfell Tower, Lawrence replied "no".
The inquiry continues.