Main contractor's final site manager was drafted in after project manager and contracts manager quit
The final site manager for Grenfell Tower's ill-fated refurbishment has told the inquiry into 2017's disaster that he believed Rydon had been "quite thorough" in overseeing the quality of work delivered in the project.
David Hughes said he had been drafted onto the project in October 2015 at one day's notice, following the departure of main contractor Rydon's contracts manager Simon Lawrence and project manager Simon O'Connor.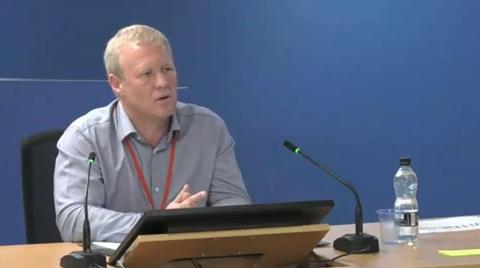 Hughes said he had been specifically asked to manage the completion and handover of the cladding and communal M&E systems and to "generally help out" where he thought it was needed. The building's aluminium composite material (ACM) cladding was the principal cause of the spread of fire, which claimed 72 lives.
Quizzed by inquiry barrister Kate Grange QC on whether concerns had been raised over the quality of work-checking at Grenfell, Hughes said they had not.
"I believed we'd been quite thorough: making sure subcontractors were doing their work and giving me sheets telling me [they'd] done it all," he said.
"They have a responsibility to make sure their work is correct in the first place; I go up, I check, I do not have any sheets proving that I've checked, but by the simple fact that when I took building control and the clerk of works up there they only came back with very minor issues."
Hughes told Monday's session that after being transferred to Grenfell as one of a handful of other site managers his role became one of overseeing the project – something that had not been the plan when he initially transferred to it.
"One of the biggest holes that needed to be filled was the No 1 hole, and I assumed that role," he said.
He added that although it had not initially been the plan, he ended up "essentially taking over" O'Connor's role as project manager. O'Connor told the hearing last week that "work pressure" and the offer of a better job had been the reasons he left.
Hughes said it had been left partly up to him to decide where his help was needed.
"I saw that one of the things needed was interaction with the client, so I became the main client go-to," he said.
Hughes said installation of the building's new ACM cladding had been well under way by the time he joined the project.
He told the inquiry that he had no previous experience of high-rise overcladding projects such as Grenfell and had not worked on the similar schemes Rydon had undertaken at the Chalcots Estate in Camden or Ferrier Point in Newham.
Hughes accepted that he had approved facades subcontractor Harley's request to substitute Celotex RS 5000 insulation specified for the project for Kingspan Kooltherm K15 without informing client Kensington & Chelsea Tenant Management Organisation of the move.
Asked to explain why he had done this, even though he had been aware it was a contractual condition of Rydon's appointment to notify specification changes, he said he could not.
"It just goes back to experience that they were very similar," he said of the two products.
Hughes said his principal concern had been to make sure that the thermal efficiency of the products was like-for-like and was satisfied it was. He said the products' fire performance had never been discussed when Harley project manager Ben Bailey requested the swap.
He added that he was unaware that quantities of K15 had previously been ordered for Grenfell's refurbishment and that some of it may have already been installed by the time he joined the project.
Hughes said he did not consult architect Studio E or early-stage fire safety consultant Exova over the swap either.
The inquiry continues.