Focus was on Harley Facade's lack of technical expertise, while Max Fordham, Osborne Berry and CEP Architectural Facades also had questions to answer
Harley Facades dominated September's hearings of the inquiry into the flawed refurbishment of Grenfell Tower, which led to the fire that claimed 72 lives in 2017.
There were contrasting accounts of compliance checks on products used by the cladding specialist on Grenfell – and who was responsible. It also emerged that Harley's project manager was the 25-year-old son of the boss, in his first such role, and that Harley had a financial motive to use the cassette version of Reynobond PE 55 aluminium composite material (ACM) cladding on the tower.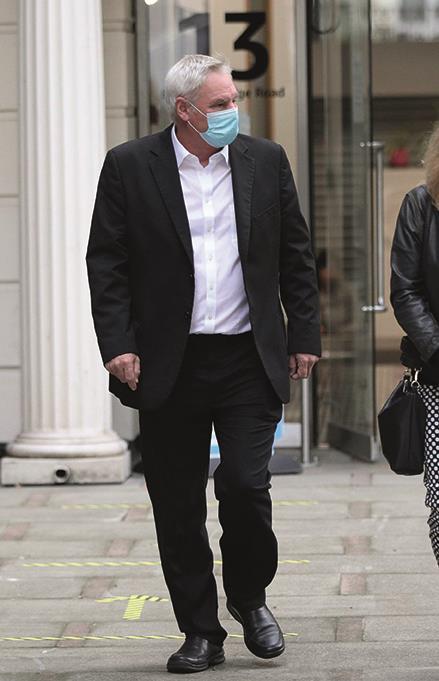 Harley director Ray Bailey insisted the firm conducted "all possible" reasonable checks on products when it was using them for the first time and felt deceived by Celotex, the manufacturer of RS5000 polyisocyanurate (PIR) insulation.
"Celotex made a big, big deal about their products being suitable, specifically designed for buildings over 18m," he said. "We not only read the literature; we had their technical sales manager in to go through the project. […] We didn't believe for one second that they would attempt to mislead us."
The ACM, which had a combustible polyethylene (PE) core, was the principal reason fire spread so rapidly around the 25-storey tower block, according to the Grenfell Inquiry phase 1 report. Combustible insulation materials "contributed to the rate and extent of vertical flame spread".
Bailey rejected the suggestion that "the buck stopped with Harley on products and design" even though the firm was the specialist contractor responsible for the design, supply and fix of the facade system.
Bailey said the firm was just one of a "raft of layers" that included project architect Studio E, fire consultant Exova and Kensington and Chelsea council's building control officers.
Asked about technical expertise on Building Regulations within the firm, Bailey said Harley employed a technical manager – named Graham Hackley, and that Daniel Anketell-Jones had taken on the role when Hackley left.
Anketell-Jones disputed the evidence. He said there had been a two-year period when no one in the firm had been qualified to do even a "cursory check" on the fire performance of materials.
Anketell-Jones said he had been presented to main contractor Rydon as Harley's design lead for the Grenfell project as a "stop-gap measure" to cover for a lack of in-house capacity. Freelance draughtsman Kevin Lamb was subsequently hired as "project designer".
Former Harley commercial manager Mark Harris was questioned about the firm's keenness to use Reynobond ACM for the scheme. He denied "pushing hard" for its use or being provided with an incentive for the product's use by manufacturer Alcoa.
Harley's estimating manager Mike Albiston admitted he made pricing errors with Reynobond quotes for Rydon and that the figure for faced-fixed panels, which are riveted in place through the front, had an additional pricing shortfall of £37,650, making them more expensive than the cassette version and meaning Harley became keen for the cassettes to be used.
Written evidence to the inquiry from Claude Wehrle of ACM manufacturer Alcoa – now known as Arconic – said the firm knew in November 2013 that Reynobond PE 55 cassettes had worse fire performance than the face-fixed version. Ray Bailey said he was not aware of the information.
Ben Bailey, Ray Bailey's son, was subjected to arguably the toughest questioning of any Harley team member. The Oxford Brookes University business and management graduate said he had never been provided with a written job description for the project manager role, but saw it covering programme management, liaising with the client and "valuation type" activities.
Barrister Richard Millett QC asked whether Grenfell Tower had been used as a "guinea pig" for Celotex RS5000. Ben Bailey acknowledged that Celotex wanted Grenfell to be a "case study", but insisted that a 47.5% discount, worth more than £41,000 and offered on 660 panels of the insulation, was a reflection of the size of the order not an inducement.
Bailey accepted he had failed to properly understand a warning from a technical officer at cavity-barrier supplier Siderise who identified a "weak link for fire" in the refurbishment plans.
Millett later asked how a specialist cladding subcontractor and its project manager lacked so much expertise that they needed advice from a manufacturer.
Bailey said that he was "not in a technical role" and had just been "double checking". He earlier admitted finding Approved Document B of the Building Regulations – which relates to fire safety – "confusing".
On Tuesday, the contractor who packed the window surrounds of Grenfell Tower with combustible insulation and finished the reveals with combustible uPVC told the inquiry that he assumed the materials had already been considered acceptable when he joined the project.
Mark Dixon of SD Plastering was hired by Grenfell refurbishment main contractor Rydon to deliver new window reveals for the flats in the tower block. The work bridged the cavity between the 1970s building's original windows frames and the new windows in the new rainscreen cladding system.
Giving evidence to the Grenfell Tower Inquiry on Tuesday, Dixon – who worked for Rydon for nine years in various managerial roles before becoming a director of SD Plastering in 2005 – said he believed the choice of materials for the surrounds had been driven by value engineering consideration.
"I think we was one of the last people to cost this element of works," he said. "There had been many before us.
"You would like to think that there had been a series of processes they have gone through, and what we was being exposed to was the remaining option."
Dixon told the hearing he understood that the fundaments of what Rydon had been looking for had already been decided on when SD Plastering was asked for its thoughts on the window surrounds and he believed that the work was "nothing more than a cosmetic detail".
Grange QC asked Dixon whether he had ever asked Rydon for a proper specification for the work and sought project architect Studio E's approval.
"No," he replied. "Because we came so late to the party, we have assumed that everybody else has already run every scenario and got it right."
The following day, the local authority building control officer responsible for inspecting the refurbishment of Grenfell Tower said austerity-driven staffing cuts at Kensington and Chelsea council ramped up his workload and stopped him from visiting construction sites as often as he wanted.
John Hoban said he was responsible for 120-130 separate developments by 2016 – the year the Grenfell Tower refurbishment was signed off.
Hoban told Wednesday's session that an inevitable consequence of the increased workload, which followed a restructuring of his department in 2013, was that he could not get out to visit sites as much as he would have liked and had to seek some assurances about projects via email rather than in person.
"I wasn't visiting certain jobs," he said. "I was making judgments on who to visit and who to write to confirm things … the level of supervision, the standard of workmanship; whether you'd worked with particular people in the past and whether you considered that they were doing what they needed to do."
Asked about the reason for the restructuring and staff reductions, Hoban replied: "It was mainly to do with cuts, austerity cuts."
The inquiry heard earlier in the day that Hoban quit his job as a senior building control surveyor at the west London council at the end of March 2017 because he did not feel able to do his job in the way he had been trained and felt the situation had been affecting his health. Hoban had worked as a building control officer for more than three decades at that point.
Hoban said that he had originally planned to inspect work at Grenfell on a monthly basis.
The inquiry continues.
M&E firm recommended combustible insulation
A mechanical and electrical systems consultant recommended the use of combustible insulation on the outside of Grenfell Tower as a way to meet an "aspirational" thermal efficiency target, the inquiry heard last week.
Andrew McQuatt of building services engineering consultancy Max Fordham said the recommendation followed a search for insulation thin enough to meet a new-build-equivalent target for the refurbishment and fit between the block's original walls and its planned new cladding.
Mineral wool was seen as too thick, but McQuatt said an internet search revealed Celotex FR5000 would work from an efficiency perspective. The Celotex RS5000 used on Grenfell was fundamentally the same product.
McQuatt said it had not occurred to him that there might be fire-performance issues with the PIR insulation and he had not been aware his suggestion was taken as a tacit endorsement for Celotex FR5000 by architect Studio E.
Subcontractor shocked by 'unacceptable' workmanship
A subcontractor responsible for fitting the external cladding system to Grenfell Tower has agreed that some fire protection measures that formed part of the package were fitted in a "shocking" and "unacceptable" way.
Mark Osborne, of Osborne Berry, was shown images of cavity barriers installed on the tower in positions that were back-to-front and in the wrong orientation, failings that stopped them serving their intended purpose.
Osborne told inquiry barrister Kate Grange QC he was "shocked" that the correct vertical barriers were not installed. Grange asked whether Osborne agreed that the photographs were shocking. He replied: "I do." Asked whether he thought it was "unacceptable", Osborne said: "It certainly was."
On Tuesday, Osborne's partner Grahame Berry told the inquiry "he can't see how" cavity barriers were installed the wrong way around and back to front as part of the flawed refurbishment.
Berry also agreed that photographs of the work taken during post-fire investigations had shown workmanship that was "shocking" and "unacceptable".
Grange asked Berry how it was possible that nobody noticed such examples of poor workmanship on site.
"I can' t see how it's arisen because of the other checks that people have come 'round after we've installed the stuff," he said.
"There were checks after we've installed all our stuff on the building anyway, the insulation, the firebreaks as such. So I can' t see how that got missed."
Berry was asked whether he had ever been forced to take on workers who didn't have the right skills to do the job. "Not that I'm aware of, no," he replied.
He was also asked about an October 2015 invoice to Harley for around £27,000 that included itemised entries for one day when he and Osborne were on site but had nothing to do, which was priced at £360. Another entry was for £880 and was described as "8 men no work for 1 day machines up in air to look like working".
In explanation, Berry said: "I think that was a time where we had no materials on site for that particular day or so, and Rydons had a client meeting with a potential client for another building," he said.
"Harley asked us to be up in the air to look like we were working so it was like a normal building site as such, rather than people just sat downstairs doing nothing."
Berry said the team had gone up the mast climbers and pretended to work for the day. Asked whether the team had pretended to work for the whole day, Berry replied: "Bar lunch break, obviously."
In earlier evidence, it emerged that a key sales contact at the firm that fabricated the combustible ACM cassettes used on the tower was told that a safer, fire-retardant (FR) version of the product used was available.
Geof Blades of CEP Architectural Facades said in a witness statement that he was unaware there was an "FR" version of the Reynobond 55 ACM that French firm Alcoa produced and his firm formed into bespoke cassettes for Grenfell.
But he was shown an email trail with a staff member from 3A Composites, producer of rival ACM Alucobond, who asked whether a price Blades was discussing related to Reynobond in FR form. Blades indicated it did not.
The staff member, Richard Geater, said the FR version of Reynobond cost "considerably more" than his firm's FR-cored Alucobond panels and that Alcoa "won't change their core until they are forced to due to changes in the fire regulations, else Reynobond will become too expensive".
Blades told the inquiry that he did not remember the conversation, but accepted that it took place.