Rydon Maintenance and Harley Facades say they will co-operate fully with public inquiry after fire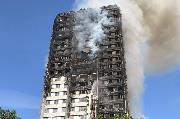 Two of the companies involved in the refurbishment of Grenfell Tower have issued statements saying they will co-operate fully with the public inquiry into the disaster.
Rydon Maintenance, which oversaw the works last year, said it welcomed the prime minister's announcement of an inquiry.
Robert Bond, the firm's chief executive, said in a statement on the company's website: "In the immediate term, we have offered our full help and support to the relevant authorities, who are investigating the causes. We would also like to praise the tireless efforts and bravery of the emergency services who continue to deal with this tragic incident.
"Rydon Maintenance Limited completed a partial refurbishment of the building in the summer of 2016 for the Kensington and Chelsea Tenant Management Organisation on behalf of the council, which met all required building regulations – as well as fire regulation and health & safety standards – and handover took place when the completion notice was issued by Royal Borough of Kensington and Chelsea building control.
"I am personally shocked and devastated by what has happened at Grenfell Tower and my thoughts are with the families and friends of those affected. We have been working with local authorities for nearly forty years and safety and quality are integral to everything we do at Rydon. I will do all I can to assist in this investigation in order to establish what caused this tragedy."
Bond said that in light of the public inquiry, the firm could not make any further comment at this time.
Harley Facades Limited said it had completed the refurbishment work to Grenfell Tower, including the installation of exterior cladding. In a statement it said: "The aluminium composite material panels are a commonly-used product in the refurbishment industry. Harley Facades Limited do not manufacture these panels.
Ray Bailey, the firm's managing director, said: "This is an incredibly tragic incident. Our thoughts are with the residents and their families who have suffered such a personal loss. We will fully support and cooperate with the investigations into this fire.
"There will be many questions about this whole incident and so you will appreciate that it would not be appropriate for us to comment or for others to speculate on any aspect of fire or it causes in advance of these inquiries. At this time, we are not aware of any link between the fire and the exterior cladding to the tower."