Andrew Whalley becomes chairman of practice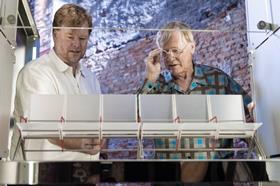 Nicholas Grimshaw has announced he is handing over the reins of the practice he founded 40 years ago.
Andrew Whalley will become chairman of the practice he has helped Grimshaw lead for 33 years.
Grimshaw, who is approaching his 80th birthday, is the first of his generation of "big hitters" to announce his succession.
Norman Foster, Richard Rogers, Michael Hopkins and Terry Farrell have yet to step aside from the practices they founded, despite all being in their 80s. All five featured in the 2014 BBC series The Brits Who Built the Modern World.
Grimshaw, who was knighted in 2002, was awarded the Royal Gold Medal in February. His office said he was not retiring but "stepping back as chairman and reducing his involvement in the day-to-day running of the practice".
He remains a partner and will be available to support the leadership team with his experience.
Whalley has been deputy chairman for the last eight years. He helped set up Grimshaw's New York studio in 2001, giving the practice a foothold in North America as it expanded beyond London for the first time. It was one of eight architectural firms in New York selected for major public projects under then-mayor Michael Bloomberg's design excellence programme.
Whalley and Grimshaw have worked together on a number of the firm's high-profile schemes including the Eden Project, Waterloo International and the redevelopment of London Bridge station.