Property firm previews 10-year outlook for work but warns on profit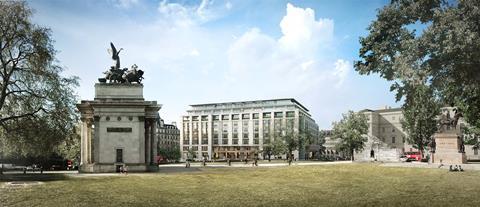 Peninsula Hotel, 1-5 Grosvenor Place, Hyde Park Corner - by Hopkins
International property business Grosvenor Group has trailed a £5.6bn development pipeline as part of its annual review. The figure is a slight increase on last year's £5.5bn, but down on the £6bn outlook from two years ago.
The privately-owned business, which is part of the Duke of Westminster's Grosvenor Estate, indicated that 2021 would be a peak year, with £1.38bn of scheduled projects tabled to complete.
Included in the pipeline is the 190-room Peninsula London Hotel - a joint venture with Hongkong and Shanghai Hotels - earmarked for 1-5 Grosvenor Place in the capital, which received a resolution to grant planning permission in December last year.
Also included is the mixed-use development of an 18-hectare parcel of land in the Silicon Valley town of Los Gatos, California. Grosvenor's masterplan for the site was approved in June last year.
Grosvenor said economic gearing for its pipeline had increased to 27% from 23%, and that it had "unused committed financial capacity" of £0.9bn, down from £1.1bn last year, to allow for future investment and development activity.
It said its committed development activity - or development exposure - now stood at 10.8%, expressed as a proportion of its total property commitments, and was "planned to increase further over the coming years".
Elsewhere, Grosvenor Group said its profit before tax had dropped to £526.6m, down 22.7% from 2014's figure of £681.8m. In a statement accompanying the results, the firm said lower returns and revenue profit were expected over the "next few years".
Chief executive Mark Preston said the results were in line with expectations, adding that while all Grosvenor businesses had performed well, its board was "particularly pleased" with the performance of its indirect investment portfolio.
He also paid tribute to Jeremy Newsum, who s due to retire as executive trustee of the Grosvenor Estate at the end of the year.
"Jeremy has done so much for the Grosvenor Group and the Grosvenor Estate over the past 32 years, he said.
"I regard it as a huge privilege to take over from him and to take on this role which straddles the property company and the other Grosvenor Estate businesses."