Grosvenor has increased its pipeline from 2,100 homes to 15,000 homes since the summer of 2017
Grosvenor is set to develop a 5,000 home project in Essex, boosting its housing pipeline to 15,000 homes.
Working with the landowner Hammonds Estates, Grosvenor will be acting as a master developer on the 1,160 acre site east of Chelmsford that will be know as Hammonds Farm.
The scheme is set to include 5,000 homes with a mix of residential tenures, as well as amenities and community facilities including as education, leisure and health spaces.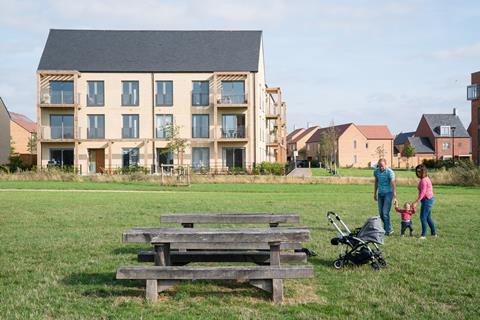 In 2018, Grosvenor outlined plans to triple the size of its strategic land business, targeting a portfolio of at least 30,000 homes within the next five years.
It also said it wanted to focus on sites capable of developing between 2,000 and 5,000-plus homes, in areas of economic growth where housing need is most acute.
With the addition of Hammonds Farm, Grosvenor's pipeline stands at around 15,000 homes, up from 2,100 in summer 2017.
The business' other developments include Trumpington Meadows, Cambridgeshire (pictured), which is delivering 1,200 homes on a site comprising of 80% open space and Barton Park in Oxfordshire, one of the most advanced of the 10 towns being brought forward as part of the NHS' Healthy New Towns initiative.