Firm due to open office in Manchester and looks further afield as it aims for £20m turnover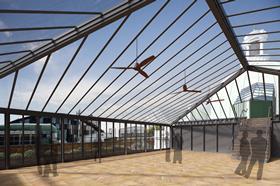 TowerEight is set to open its first UK office outside the capital in the coming months with the firm also eyeing an office in Europe to help it carry out work in the EU following Brexit.
The London-based project manager and cost consultant, which was set up in spring 2011, has secured office space in the middle of Manchester with the new office due to open early next year.
TowerEight co-founder James Morris said the office would be a regional one for the north of England covering Manchester, Leeds, Liverpool as well as Sheffield and Nottingham.
He added: "We have quite a lot of work there such as student accommodation and hotel work and it makes sense to be there. If you have a local presence you're much more likely to win jobs there."
Morris said the move was part of a longer term plan to grow income nearly two-thirds at the firm to £20m within five years.
Turnover in the year to May 2018 jumped 15% to £12.5m with the firm forecasting revenue of £13.5m in its current financial year. "We're looking at £20m by 2023 at the latest," Morris added.
The firm, which is working on a scheme to overhaul the Koko music venue (pictured) in Camden, north London, is also looking at work overseas and has been approached about project management and QS work in Europe for a hotel chain.
Morris said the firm is looking at working in Germany and the Benelux countries with a possible office opening in Berlin on the cards.
"Germany would be an opportunity," he added. "It's next on our list after Manchester. I think it will be virtually impossible to work out there [in the EU] without an office [after Brexit]."
The firm employs 80 staff from its office at London Bridge but Morris said its expansion plans mean it will look at increasing numbers up to around 120 at the site off Tower Bridge Road where it has capacity for 140 people.
Morris said the firm poached project manager Ciaran Galvin from Arcadis earlier this summer with a brief to grow its office fit-out work. Around 10% of TowerEight's work is in fit-out but Morris wants to hike this to around 25%. "Landlords are looking at their existing estate to see what they can do to improve it," he said.
Around 70% of its current workload is in residential, mixed-use, hotels and leisure with the firm working on Quintain's mixed-use scheme at Wembley in north-west London as well as helping look after more than 40 hotels across the country for hotel chain Marriott.
It is also working on a 2,000 homes scheme for developer Greystar at the former Galxosmithkline site in Greenford, west London.