Mayor of Hackney publishes independent assessment finding developer could afford three times as much affordable housing as offered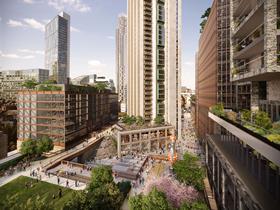 The two councils on whose land the Bishopsgate Goodsyard development is supposed to be built have announced they would refuse it planning permission – were the decision still theirs to make.
Their reasoning is based in part on an independent assessment of the developer's viability report which concludes that the scheme could include three times more "affordable" housing than the proposed 10%.
This disparity is described as "extremely concerning" by BNP Paribas Real Estate (BNPPRE) which authored the assessment. Nevertheless the developers behind the scheme, Ballymore and Hammerson, maintain it is right scheme for the site.
The mayor of Hackney, Jules Pipe, said: "This report exposes for the first time the shoddy, downright misleading viability assessment on which the developers base their case.
"Although they claim to owe the community no affordable housing and offer a paltry 10% out of 'goodwill', the independent study by BNP Paribas found more than 30% on site with a further £12 million towards off-site provision would be viable.
"It identifies 'distortion' and a 'lack of transparency' throughout the developer's assessment, argues they have ramped up their costs and downplayed profits, and predicts our communities would be short-changed by the current s106 money being offered.
"These proposals, based primarily on cashing in on luxury flats way beyond the means of most Hackney residents, are wholly inappropriate for this part of Shoreditch."
Planning officers at Hackney and Tower Hamlets have written reports recommending refusal of the giant scheme which will be presented to councillors at parallel meetings this Thursday evening.
The planning committees will be asked to approve motions recommending the mayor of London reject the scheme which was masterplanned by Farrells with towers designed by PLP and additional elements by FaulknerBrowns, Buckley Gray Yeoman and Chris Dyson Architects.
Boris Johnson called in the scheme in September after a request by joint developers Hammerson-Ballymore and is expected to make a decision by next spring.
The developers complained the two local authorities were taking too long to reach a decision. The planning application was submitted last year but since then the developer has been forced to reduce the height of the towers to 46 and 38 storeys and the number of flats to 1,356.
Hackney objected on the grounds that the scheme was "not considered to be of excellent architectural design" and would thus harm a number of views including the setting of the Tower of London world heritage site.
The council also said it amounted to overdevelopment, was not an employment-led scheme, did not contain enough affordable housing and would cause "direct and substantial harm to a designated heritage asset".
Tower Hamlets council made a number of similar points and objected to the scheme's failure to provide "key north/south, east/west routes".
The site, surrounded by five conservation areas and containing a listed viaduct and wall, was built in 1840 as Shoreditch station before becoming a goods-only station in 1881. It has been largely derelict since a fire in 1964, aside from pop-up uses such as Boxpark.
Jonathon Weston, senior development manager at Ballymore, said the scheme was "right for this site", and would provide 75,000sq m of office space, 10% of it "affordable", designed with local Tech City businesses in mind.
"When complete, the Goodsyard will also bring much-needed homes to the area including a significant number of three-, four- and five-bedroom properties, alongside flexible retail space and a public park," he said. "We continue to work with Hackney, Tower Hamlets and the GLA to progress the application towards a positive decision for our scheme."
A version of this story was first published on Building's sister title BD