Pat Ritchie steps down to take top job at Newcastle Council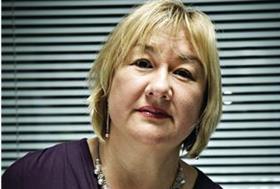 The boss of the Homes and Communities Agency announced her resignation today to take up the role of chief executive at Newcastle City Council.
Pat Ritchie has been chief executive of the HCA, which funds the delivery of affordable housing in England, for two years since the departure of Sir Bob Kerslake, now head of the civil service.
Robert Napier, chairman of the HCA, said: "Pat has built a strong agency with a clear remit from government and a track record for delivery. I had hoped to retain Pat in the role of HCA chief executive, however the board and I will now continue with the process to recruit a permanent chief executive as quickly as possible."
Early in Ritchie's career she worked in economic development and regeneration for Newcastle City Council and was later assistant chief executive at regional development agency One NorthEast.
She described the post of chief executive at Newcastle as her "dream job" and said she was "delighted" to be back in the North-east.
She said: ""I am very proud of the strong organisation the HCA has become. It has been a period of change and challenge at the HCA and across the sector; however the agency now has a clear direction and a vital role in delivering the government's housing, land and growth ambitions."
Ritchie will remain chief executive of the HCA until the end of January 2013.