Does the appointment of new chief executive Andy Rose end a period of uncertainty for the HCA?
Last week's appointment of private finance specialist Andy Rose as chief executive of the Homes and Communities Agency could been seen to mark the end of a period of uncertainty for the body - one of construction and housebuilding's most valuable clients. Certainly HCA chair Robert Napier was in bullish mood when speaking after the announcement. "It's a perfect fit for where you have limited public sector money but you still need to make things happen. He's the man for the moment, and will help define what the HCA will become in the new world."
Rose - currently a partner at European debt adviser and asset manager AgFe and a former head of the government's Infrastructure UK quango - will take up his position on 15 April and will have a formidable in-tray to deal with. Because despite some government success in boosting private sector housing starts - which has seen housebuilders this week report sky-rocketing profits - the volume of affordable homes being built has collapsed. Figures released last week show the number of housing association starts in England in the 2012/13 financial year is running 15% down on 2011/12 - a figure that was already the lowest for eight years.
There are many explanations for this. But as the government's housing and regeneration quango (outside London), it's the HCA's job to hit the government's target - to ensure that 170,000 "affordable" homes are built by March 2015, whatever the headwinds. The drop, which Labour has dubbed an "affordable housing crisis", begs the question of whether - and how - the agency can begin to tackle these problems.
The current fall-off in affordable housing construction has its roots in the 2010 spending review, which cut the HCA's affordable housing budget by more than half, to £4.5bn. It also introduced a new system, called Affordable Rent, designed to fund homes with a much smaller amount of grant. Under the system the funding shortfall is filled by housing associations borrowing more from the private markets on the back of higher rents. This leaves housing associations forced to raise their debt levels - or gearing - significantly if they want to build new homes, meaning many have been cautious about their transition to the new system.
But there are many other pressures on housing associations' development programmes. The government is encouraging councils to scale back requirements for affordable housing on private schemes in order to get residential schemes off the ground, while the introduction of the Community Infrastructure Levy is further squeezing the planning contribution made to affordable housing. Some councils, furthermore, are politically opposed to the Affordable Rent system, which they see as piling costs on vulnerable tenants. Jeff Fairburn, group managing director at Persimmon, says: "Local authorities are taking a realistic view on what affordable housing private sites can be expected to support. Affordable housing does inevitably get squeezed."
No wonder, then, that the HCA's Napier says one of Rose's first priorities will be to get its current programme delivering. It has to get £751m spent - not just allocated - by 28 March this year, amounting to 20,000 homes. "It's heads down and time to deliver," he says. "We will deliver the 170,000."
One problem is that the four-year programme, coupled with the transition to the new system, has left the agency limited power to control when homes are actually built - beyond telling registered providers that they won't get their money without practical completion by April 2015. This has left the HCA with a fifth of the programme still not allocated against specific sites - despite the fact most builders will need to be on site by the end of this year in order to guarantee completion to the timetable.
The HCA was sufficiently concerned to write to all registered providers at the end of January, asking for details of their programmes, and reassurance that "remaining starts on site are set to occur in the first half of the next financial year," raising the prospect of associations losing their funding allocations if they can't demonstrate progress. Napier understands the concern: "There are only two years to go, if we don't have the sites then we're not going to get things built. [But] it's a question I continually ask, and I'm increasingly satisfied with the answer I'm getting back. We've had lots of interaction with suppliers over this."
But if delivering homes for the 2015 deadline is a challenge, the much larger concern for many is what happens when the current programme runs out. Michael Hill, business development director at developer Countryside, says: "Our expectations about grant past the election are pretty low, and getting lower by the day […] It'll be about making housing association money go further."
The problem is that the less money the government has to offer, the less leverage it has over housing associations to induce them to build homes - and many may decide it isn't worth the risk of piling more debt onto their organisations without the carrot of government hand-outs. One senior Greater London Authority source says: "The real question is whether associations are going to gear up or not. My view is it will be a big challenge to get a programme able to create the levels of affordable housing completions that have been feeding through in the last couple of years."
The government and HCA's plans to tackle these issues are set to test all of Rose's project finance skills. The government has said it will provide guarantees to underwrite up to £10bn of lending to providers building affordable or private rented housing. The point of this is not only to make borrowing cheaper, but also to free up housing associations' balance sheets by removing the risk from loans.
The other way for the HCA to address the shortfall is through the use of surplus public land, on which prime minister David Cameron has pledged to build 100,000 homes (not all affordable) by 2015. Sir Bob Kerslake, former HCA chief executive and now head of the civil service, is taking a personal interest in bashing departmental heads together to drive this policy, which will see the HCA becoming a broker for all surplus public land. Napier says: "There is huge pressure to make it happen. Ministers will want us to give answers."
However, with Napier admitting that the way in which this will work has not yet been determined, those in the market are yet to see an increase in public land flowing out to developers. "It's taking too long to come through," says Persimmon's Fairburn, "and the land is not necessarily in the right places. I think it's a bit stalled."
All the signs are Rose is likely to have his work cut out.
WHO IS ANDY ROSE?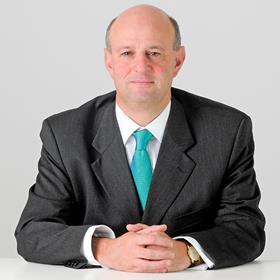 New HCA chief executive Andy Rose is not a man known to the social housing or regeneration worlds. None of the social landlords spoken to by Building this week had previously heard of him. For HCA chair Napier this is an advantage: "He is bringing relevant experience and a fresh pair of eyes, which is not such a bad thing."
The "relevant experience" is Rose's 17 years at the Canadian Imperial Bank of Commerce, much of it spent working big infrastructure deals; his three years at private finance adviser Partnerships UK; and his time at the Treasury, most notably as acting chief executive of Infrastructure UK.
Rose is therefore viewed as an expert in working out how to lever in private finance to support public sector projects, an area seen as vital given expectations of further funding cuts after 2015.
David Ritchie, chief executive at housebuilder Bovis Homes, said: "This just shows how the HCA is changing its contribution from being a deliverer of social outcomes, to a private funder that is much more commercial and land-focused."