300 jobs threatened as four of civil engineer's companies fall into administration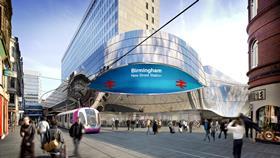 Four of civil engineer Hewlett's subsidiaries, including Hewlett Civil Engineering, have gone into administration.
The Yorkshire-based firm, which is working on the on £600m redevelopment of Birmingham New Street station (pictured), was founded in 1987 by chair John Duffy and works across the highways, defence, rail, residential, renewals, and power sectors.
Hewlett Group incorporates two holding companies: Hewlett Construction Group Ltd and Hewlett Property Group Ltd.
The administrator BDO said four Hewlett Construction Group subsidiaries have been placed into administration: Hewlett Civil Engineering Limited, Hewlett Rail Limited, Hewlett Plant Hire Limited and Portford Homes Limited.
BDO said restructuring partners Paul Bates and Graham Newton were appointed joint administrators yesterday.
The firms operate from a head office in Leeds, two additional regional offices, a further two training sites and third party contractor sites.
BDO said collectively the companies employ approximately 300 staff based at the above locations, but no redundancies have been made at this stage.
Paul Bates, BDO business restructuring partner, said: "The companies encountered financial difficulties as a result of the challenging economic climate over the past few years. Turnover has fallen from about £62m in 2009 to about £42m in 2012. Regrettably, this has meant that the companies are unable to continue to trade in their current form.
"At the moment we are conducting a thorough appraisal of the companies to determine whether it is viable for the companies to continue to trade during the Administration process. We are also assessing the potential for a sale of all or some of the companies on a going concern basis."
Among the jobs that Hewlett were working on is the £600m redevelopment of Birmingham New Street station for Network Rail, where it was delivering street works.
A spokesperson for Network Rail said: "Network Rail and Mace are currently drawing up contingency plans to allow the work to be delivered by other means and for members of staff to be redeployed where possible. We're confident this situation will not delay the delivery of the project and we remain on course to switch the first half of the station over as scheduled this April."
Emma Miller, director at credit firm Top Service, said the administration was "no surprise". "We had quite an influx of people reporting problems with Hewlett towards the end of last year," she said.
She said Top Service's debt recovery team had dealt with over £100,000 worth of overdue accounts in recent months.
According to Top Service the firm has four outstanding county court judgments against it totalling £48,815, including one, handed down last Wednesday, for £47,481.