Railway chairman makes revelation at select committee grilling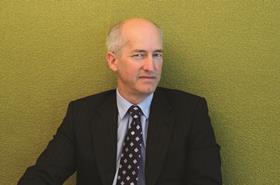 HS2 chairman David Higgins has admitted that he would have asked CH2M to pull out of the race for a key contract on the second phase of the railway – if it hadn't withdrawn itself.
The US consultant was named preferred bidder for the deal for the £170m phase two delivery partner contract in February – beating Bechtel and a team featuring Mace.
But during a transport select committee hearing into the award, it emerged that during the standstill period – after CH2M was named preferred bidder – a whistleblower alerted Mace to the news that HS2's former chief of staff Chris Reynolds was now working at CH2M.
Higgins (pictured) told this afternoon's hearing that Reynolds left HS2 in June last year and joined CH2M in September – which Mace said raised conflict of interest issues.
Higgins said Reynolds did not work on preparing the procurement documents for the tender but said the HS2 board raised the matter with CH2M and Higgins told MPs: "Unless something came back satisfactorily we would have disqualified them."
And transport secretary Chris Grayling said it was "more than likely" the department would have asked CH2M to withdraw.
CH2M withdrew from the contract last month and asked why the firm pulled out, Higgins said: "Maybe they didn't look forward to a legal battle with us – who knows?"
Higgins, who revealed he will be having another meeting next week with Mark Reynolds, the chief executive of Mace, which has threatened legal action over the issue, said HS2 would be tightening up its procedures as a result and would ask future bidders "to give us more of a chance to scrutinise this [conflicts of interest] ourselves".
Grayling said it wasn't realistic for HS2 to "pore over every document", looking for possible points of contention and added: "The system has worked, showing that a bidder needs to conform to the rules and that there will be consequences for them if they don't."
On Tuesday, Bechtel, which came second in the original race, was named preferred supplier for the work. Higgins said its bid was 15% cheaper than Mace's.
Announcing its withdrawal last month, CH2M said: "CH2M today provided formal notice to HS2 Ltd that we are withdrawing our interest in the HS2 Phase 2b contract.
"CH2M has demonstrated all appropriate measures taken throughout to ensure the integrity of the procurement process. Notwithstanding these efforts, we have taken the decision to alleviate any further delays to this critical national infrastructure project which could ultimately lead to increasing costs to UK taxpayers, as well as to our firm."
Higgins and Grayling on possible legal action by Mace
Mace has said it will decide by the end of next week whether to launch a legal challenge against HS2 over the contract.
It wants the contest re-run and has hired £650 an hour QC Michael Bowsher to advise it.
But HS2 chairman David Higgins said it had no plans to go out to tender again. He added that a re-run would take between nine and 12 months to complete and could force HS2 to hire "these people [Bechtel staff] directly. I hope reason prevails."
Asked whether Mace would launch a legal challange, Higgins added: "It's difficult to understand how you challenge someone who is cheaper and technically better [Bechtel scored higher marks than Mace in HS2's technical assessment]. I'm hoping we can avoid a legal challenge. It doesn't mean to say they don't have the right to do it."
But Grayling appeared to warn off Mace from a legal challenge, spelling out the implications of doing so. He told the hearing: "My hope is that organisations here wouldn't seek to use the courts gratuitously…There is a huge amount of work here [on HS2]."
And he said firms that miss out on deals need to move on. "Sometimes they will win, sometimes they won't."
He said firms with concerns about a tendering process should get in touch with government: "My message to any contractor working with government is come to us and we will address it. Please do not use the court system without good grounds – it does no one any favours."
And he added: "[There was] a procedural flaw in the contracting process, something that was unacceptable…I don't see what else we could have done."