Firm adds Higgins evidence shows contract process was 'riddled with errors'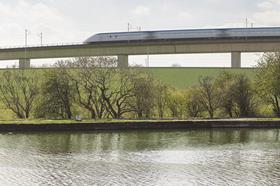 Mace has said its decision to query the circumstances surrounding the award of a HS2 contract to CH2M was justified after yesterday's select committee hearing into the process.
HS2 chairman David Higgins admitted he would have asked CH2M to pull out of the race for the contract on the second phase of the railway – if it hadn't withdrawn itself.
It emerged that after CH2M was appointed, a whistleblower alerted Mace to the news that HS2's former chief of staff Chris Reynolds was now working at CH2M.
Mace, which is pondering legal action over the matter, alleged that Reynolds was a key figure in the US firm's bid – although Higgins said Reynolds did not work on preparing the procurement documents for the tender while he was at HS2.
But Higgins said Reynolds "should not have been involved" in CH2M's bid for the contract – known as phase 2b – and admitted the HS2 board was concerned enough to raise the matter with CH2M. He added: "Unless something came back satisfactorily we would have disqualified them…We went very close to disqualifying CH."
And transport secretary Chris Grayling said it was "more than likely" the department would have asked CH2M to withdraw.
A Mace spokesperson said: "As the transport select committee has shown there are a lot of serious questions to be answered around HS2's procurement process. If we hadn't raised these concerns, these serious issues would never have come out."
Higgins said HS2 "should have been informed" about Reynolds' involvement in CH2M's bid and said the dispute had prompted it to tighten up its processes and would be asking bidders for future work to name the teams involved in tenders promising to "do more intrusive investigations in the future".
He said: "The last thing we want is for the industry to think that the process is not scrupulously fair."
But the Mace spokesperson added: "David Higgins admitting that HS2 needs to tighten up their process is an admission that the procurement was seriously flawed. It's remarkable that he also admitted that if CH2M hadn't withdrawn, they would have been sacked – which is a clear admission that their procurement process was riddled with errors."
Earlier this week, Bechtel, which came second in the original race, was named preferred supplier for the work.
Confirming not to re-run the contest, Higgins said Bechtel was 15% cheaper than Mace and also scored higher on HS2's technical assessment.
At the time it withdrew at the end of last month, CH2M said: "CH2M has demonstrated all appropriate measures taken throughout to ensure the integrity of the procurement process. Notwithstanding these efforts, we have taken the decision to alleviate any further delays to this critical national infrastructure project which could ultimately lead to increasing costs to UK taxpayers, as well as to our firm."