Firm also predicts a rebound in tender price growth in 2020 and 2021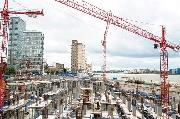 Large material price increases are offsetting the stuttering economy this year, Mace has said in its latest tender price update.
This has meant that the firm has decided to maintain its national tender price growth prediction of 2.5% for 2017.
However, Mace expects weaker growth next year to hold back any substantial tender price growth, particularly in London due to the weak commercial sector. The firm is therefore also maintaining its 0.5% forecast for tender price growth nationally next year.
Beyond 2018, Mace said it expects tender prices to "steadily" increase as clarity around Brexit is given and confidence returns to the markets, returning to 4% by 2021.
The firm is predicting a return to tender price growth in 2020 and 2021 on the back of "noises" from the government over a possible transitional period as part of Brexit, meaning "a cliff-edge" is avoided in 2019. This would result in confidence and growth returning.
But Mace warned that if the UK and EU are unable to come to an agreement it is likely tender price growth will be more subdued.
The firm added that so far 2017 had not been "easy" for the industry with sustained growth only seen within the public housing sector.
Public housing though, only makes up 5% of all new work, meaning its impact on the wider market is limited, Mace said.
This drop in activity across the majority of sectors is likely to lead to more competitive bidding, the firm added.
Steve Mason, managing director of cost consultancy at Mace, said: "The continued uncertainty as to the final outcome from Brexit is resulting in mixed messages for the market. An anticipated market downturn is countered by steady workloads and a consistent level of bidding activity.
"In many ways, little has changed for a number of months and while there appears to be an expectation of a fall at some point, this apprehension has existed since the referendum last year. We fully expect this overall sentiment to continue, with our forecast tender price increases holding steady due to continued exchange rate pressures and material price rises being tempered by an increasing appetite for secured workload in 2018 and beyond."
Mace tender price growth forecasts
| | | | | | |
| --- | --- | --- | --- | --- | --- |
| | 2017 | 2018 | 2019 | 2020 | 2021 |
| National | 2.5% | 0.5% | 1.5% | 3.0% | 4.0% |
| London | 1.5% | 0% | 1.5% | 3.0% | 4.0% |