The consultant is maintaining its tender price growth forecasts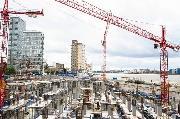 Pockets of optimism can still be found despite the political turmoil and economic uncertainty, according to consultant Alinea.
Currently there is a mixture of caution and activity within the construction sector with a reduced appetite for speculative commercial development, yet progression on some large mixed-use long term projects and a buoyant mass housing market, the firm reports in its latest market update.
There is an increasing hunger for new opportunities amongst contractors looking to fill order books for 2018 onwards based on recent tender price returns, market testing and supply chain feedback, Alinea said.
And there is a significant trend on smaller projects for tenders from main and trade contractors to be within pre-tender estimates indicating a return to competitive pricing levels, which is being achieved via a cutting of margins rather than reduced labour and materials costs, Alinea added.
Contractors are also taking a more relaxed view of procurement and are more willing to consider single stage contracting instead of "rigid insistence" on a two stage approach.
However, appetite for risk is still low and a reluctance to accept greater risk transfers is still prevalent, particularly in light of recent profit losses amongst some of the contractors such as Carillion.
Clients are giving the construction management route a fair hearing at procurement reviews although this is due more to contemporary capabilities than anything else.
Therefore Alinea is continuing to forecast tender price growth forecast of 2% for the next three years in London and the South East. The firm added that its data showed a 1% increase in the first half of the year.
"The key question now is: to what extent easing demand (and resultant impact on contractors' margins) be offset by the effects of further cost increases, which are aggravated by a weakened currency?" Alinea said.