Regulator reports improvement in "quality and timelines" of EDF Energy and Areva's responses to questions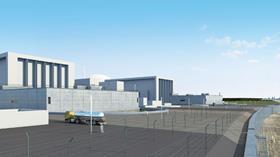 EDF Energy's new nuclear power plant at Hinkley Point in Somerset is on course to have its reactor design approved by the end of the year.
The reactor, designed by French firm Areva, is currently being assessed by the regulator the Office of Nuclear Regulation and the Environment Agency, a process known as the Generic Design Assessment.
The process had previously experienced setbacks because of poor quality answers from EDF and Areva to the regulators questions.
But in its most recent report the regulator said there had been "improvements in the quality and timeliness of the submissions".
Humphrey Cadoux-Hudson, EDF Energy managing director of nuclear new build, said: "As today's report notes, the interaction between EDF Energy, AREVA and the joint regulator has been 'intensive' and we are pleased that the focus all parties have placed on the process has resulted in significant steps forward.
"We and AREVA remain committed to achieving the close out of all issues by the end of 2012."