EDF Energy sets out plans for transportation of materials to the site and worker accommodation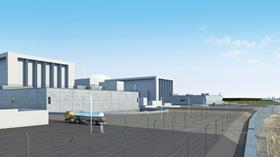 Around 5,600 jobs will be generated by the construction of a nuclear power plant at Sizewell in Suffolk, according to EDF Energy, the developer of the scheme.
The power company launched its consultation on proposals for the site today including its plans for transportation of construction materials to the site and plans for worker accommodation.
EDF plans to build two European Pressurised Reactors (EPRs) on the Sizewell C site, next to the current Sizewell B power station. It will also build a temporary jetty at the site and a temporary rail head to bring in construction materials. EDF outlined proposals to improve roads in the area including the option of building a bypass around the nearby town of Farnham.
The energy firm has also unveiled plans to build a campus for between 2,000 and 3,000 workers, which EDF proposes to put next to the construction site, though two other possible locations have also been identified.
Richard Mayson Director of Planning and External Affairs, Nuclear New Build, EDF Energy, said: "Sizewell C would generate enough electricity to supply one in five homes in Britain. It would make an important contribution to the UK's future needs for low-carbon, secure and affordable energy. It would also create significant business, training and employment opportunities locally, regionally and throughout the UK.
"We are committed to giving feedback serious consideration and will take it into account as we prepare detailed plans for Sizewell C."
The consultation period will last 11 weeks.