Key part of connecting network will be first to use new National Grid pylon design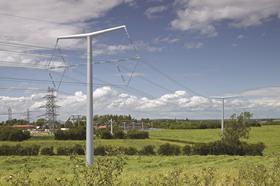 Energy secretary Amber Rudd has given the go-ahead to a £75m connection line which will trasmit electricity from the proposed Hinkley Point C nuclear power station in Somerset.
The project will be the first scheme to use the new T-pylon, which was the result of a competition held in 2011 by RIBA, the Department for Energy and Climate Change (DECC) and National Grid for a new pylon design.
Energy minister Lord Bourne said the green light for the connector is a "step forward"for Hinkley.