Hitachi Nuclear Energy Europe created to work on £14bn project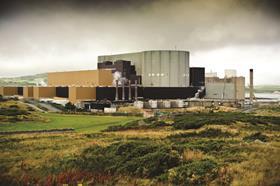 The developer of the £14bn Wylfa Newydd nuclear power plant in Wales has created a new company to form part of a proposed joint venture managing engineering, procurement and construction on the scheme.
Hitachi, whose wholly-owned subsidiary Horizon Nuclear Power is developing the plant, has announced it has incorporated a new UK company called Hitachi Nuclear Energy Europe to work as a tier 1 contractor to Horizon on the project.
The new company is set to work alongside Bechtel and Japanese engineering giant JGC Corporation, who Hitachi confirmed it was in "exclusive talks" with last August to take on the main engineering, procurement and construction (EPC) contractor role on the project.
The deal marks JGC's first involvement in the UK infrastructure market.
The firm – which has extensive experience in building power plants across the world – has been involved in one UK project previously, providing EPC services for Unilever's Colworth research lab.
Regarding progress in discussions with Bechtel and JGC, executive officer of the newly formed Hitachi Nuclear Energy Europe, Shunsuke Utena, said: "Whilst the details of our agreement remain to be finalised, I am absolutely delighted that we are close to bringing together a team of such proven capability.
"Bechtel and JGC are world-leading in their fields, and together we are primed to help make this project a real success."
Meanwhile, another Hitachi company, Hitachi-GE Nuclear Energy, has confirmed it will continue to provide the advanced boiling water reactor (ABWR) nuclear plant design for the scheme, and will work under contract to the EPC contractor JV when it is established.
Two ABWRs will be developed on the site, generating 2.7GW of energy between them.
Construction is expected to start in 2019 if the necessary permissions, consents and commercial agreements are secured, with power expected to be generated in the first half of the 2020s.