Studio founder Larry Malcic retiring after 30 years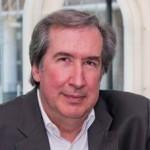 HOK has said that the man who helped establish its London office 30 years ago is retiring as part of a rejig at the business.
American Larry Malcic, who turns 64 later this year, is going after swapping St Louis in the US for London in 1989 to help establish the firm's outpost here.
HOK set up its office in 1987 and since then the studio has worked on a number of high-profile schemes in the UK including the Barclays headquarters building in Canary Wharf and the Cabinet War Rooms expansion at the Imperial war Museum.
Malcic (pictured) will carry out consultancy work for the firm which has named David Weatherhead and John Rhodes design principals under the changes.
Weatherhead joined HOK from PLP back in 2016 while Rhodes, who is a director of the firm's sports arm and is working on a new 12,000 seat arena for FC Barcelona, joined five years ago from Populous – the sports specialist which was formed out of HOK Sport following a management buyout 10 years ago and which has designed both Arsenal's and Tottenham Hotspur's new stadiums.