NHBC figures show growth in new homes being built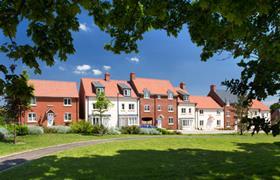 The number of new homes registered with insurance and warranty provider NHBC in April rose 4% compared with April 2013, according to figures released today.
The NHBC reported that 11,912 homes were registered in April 2014, up from 11,484 in April 2013.
The number of homes registered in April was the highest April total since 2007.
Richard Tamayo, NHBC's commercial director, said it was "comforting" to see the "very strong growth" in 2013 "consolidated" in 2014.
He added: "As production ramps up across the country it is vital that we are able to provide the support and guidance to the industry that is needed at this time as builders strive to meet the growing demand for more new homes that the UK clearly needs."
Registrations of private sector homes in the three month period to the end of April rose 2% to 25,046 up from 24,542 over the same period in 2013.
Public sector registrations in the three months to the end of April rose to 9,193, a 7% increase from 8,569 over the same period last year.