Barratt and Redrow post strong half-year results, with pre-tax profit, revenue and average selling price up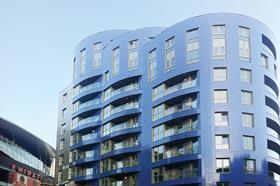 Barratt and Redrow hailed the strong recovery in the housing market as they published bumper results this week, continuing the upward trend for housebuilders.
Both firms posted strong half-year results, with pre-tax profit, revenue, completions and average selling price all up. Barratt said pre-tax profit rose 162% to £120.4m in the six months to 31 December 2013, up from £45.9m the previous year, while revenue grew 33% to £1.3bn, up from £951m.
Barratt's first half housing completions were at their highest level in five years at 6,195, up from 5,194 the previous year, while its average selling price also grew 13.9% in the period to £211,200, up from £185,000.
Redrow's pre-tax profit grew 107% to £47.5m, up from £23m the previous year, while revenue rose 41% to £363m, up from £257m.
Completions rose 30% to 1,565, up from 1,202, while the average selling price was up 17% to £262,000, up from £224,000.
The strong performance of Barratt and Redrow follows similarly bumper results for Bovis Homes, Persimmon and Taylor Wimpey this month.
Underpinning the sense of robust growth, Barratt also announced it had created more than 3,000 new jobs at its sites in the past year as it increases the production of new homes to meet demand and that it would also expand its recruitment programme over the next three years for graduates, apprentices and trainees to 1,100.
This is in addition to the total of 600 being recruited over this year and last.
The step up in employment follows an increase in the number of National House Building Council (NHBC) housing starts for Barratt in 2013 of 37% over the previous year, to around 16,000. This compares with housing starts of just 8,400 in 2009 at the depths of the recession.
Redrow also announced a series of senior management changes, with current group managing director John Tutte to be promoted to group chief executive.
Tutte will take up the role at the end of June.
Redrow added it had created two new senior posts, with Eastern division managing director Keith Parrett promoted to regional chief executive, overseeing the Southern and South East businesses, and Midlands division managing director Matthew Pratt promoted to regional chief executive, overseeing the Northern and Midlands businesses.
Steve Morgan, chairman of Redrow, said: "We expect the housing market to remain robust and for consumer confidence to improve in line with the economy.
"We have a strong pipeline of new sites in planning and we believe the government is committed to continuing to speed up the process of obtaining implementable planning permissions.
"We therefore remain confident that this will be another year of significant progress for Redrow."
Meanwhile, the latest figures from the Department for Communities and Local Government (DCLG) this week showed that completed house sales in England through the government's Help to Buy mortgage guarantee scheme had jumped from 2,133 in November to 3,410 in December.
That brought the total to 14,823 since the loans were first offered last April. Most of the loans – 89% – have gone to first-time buyers.