Plans outlined in government's long-awaited heat and buildings strategy
Homeowners can apply for a £5,000 grant to install a heat pump from April next year as part of a raft of announcements in the government's long-awaited heat and buildings strategy.
Due to be published later this morning, the strategy will set out how the government aims to decarbonise the UK's 30 million buildings as it tries to reach net zero by 2050.
The grants for heat pumps come through a £450m boiler upgrade scheme, which is part of a £3.9bn funding package for decarbonising buildings over the next four years.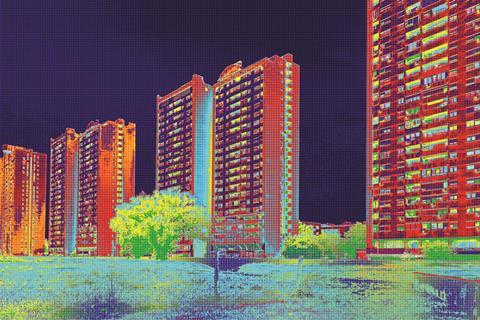 This will be used for programmes to decarbonise social and non-social housing through energy efficiency retrofits, to decarbonise public buildings and to fund heat networks.
However, hydrogen seems to have lost out in the argument over what the government will choose as its preferred technology for greener heating, with any decision on what role the gas will play delayed until 2026.
Boris Johnson said: "As we clean up the way we heat our homes over the next decade, we are backing our brilliant innovators to make clean technology like heat pumps as cheap to buy and run as gas boilers – supporting thousands of green jobs.
"Our new grants will help homeowners make the switch sooner, without costing them extra, so that going green is the better choice when their boiler needs an upgrade."
The strategy appears to be a watering down of proposals for a £7,000 starting grant for heat pumps which ministers briefed to the Times in August.
The government has still claimed that the grants will mean that heat pumps will be no more expensive and possible cheaper to buy and run than gas boilers.
But while gas boilers start at around £1,000, air source heat pumps are priced between £7,000 and £14,000 with ground source heat pumps costing from £15,000 to £35,000.
The grants also do not include the cost of installing heat pumps, which can be up to £20,000 according to Ground Source Heat Pump Association chair Laura Bishop, while some homes may also need insulation to be installed to keep sufficiently warm.
A £60m programme called Heat Pump Ready has also been announced to drive technological innovation to make the systems smaller, easier to install and cheaper to run over the coming years.
In May, the government admitted that it was facing major challenges in persuading homeowners to switch to heat pumps, which it said could be noisy, too large for many properties and could increase fuel bills.
It also said that the systems could take up to several weeks to install because of the need for some homes to be given a new electricity connection or fuse upgrade.
But business secretary Kwasi Kwarteng said low carbon heating systems would become the "obvious, affordable choice" for consumers as technology improves and costs fall over the next decade.
He added that huge rises in gas prices in recent months highlighted the need to reduce the UK's reliance on fossil fuels to "protect consumers in the long term".
Heat Pump Association chair Phil Hurley said he warmly welcomed the strategy's "bold steps forward".
He added: "Today's announcement will give industry and installers a huge confidence boost that now is the time to scale-up and retrain in preparation for the mass roll out of heat pumps, as well as making heat pumps as affordable as boilers, so all consumers can soon access and enjoy the benefits of affordable, reliable low carbon heating that stands the test of time."
Ground Source Heat Pump Association chair Laura Bishop also welcomed the plans, adding that the group looked forward to a "consistent policy environment which will drive growth in our sector and the UK economy on the path towards achieving Net Zero."
The government is also due to publish its net zero strategy today, which will outline how carbon emissions will be reduced across the economy by making energy consumption greener.
It will come alongside the net zero review, the Treasury's analysis on how much the UK's decarbonisation process will cost.