Nightingale centre has received no patients since it was built last month

Interserve has completed the second phase of NHS Nightingale Hospital Birmingham with the handover of a further 390 beds.
But the hospital has been placed on standby because no patients have been treated at the complex after it was opened in the middle of last month by the Duke of Cambridge and health secretary Matt Hancock.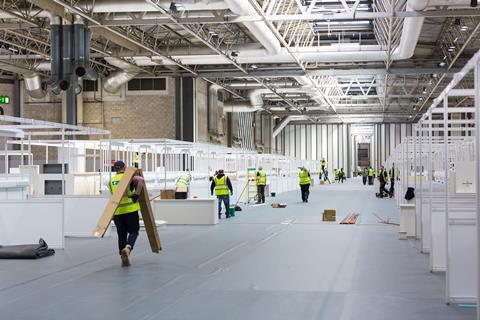 The number of beds now available at the hospital is 1,200.
The hospital was intended to take up to 500 coronavirus patients at a time from 23 Midlands hospitals but so far no patients have been treated at the NEC site.
It remains a contingency measure if other Midlands hospitals reach full capacity during the coronavirus outbreak.
University Hospitals Birmingham NHS Foundation Trust said if it does need to use the facility it would be operational again within 72 hours.
Yesterday, the Nightingale hospital in London said it would also be placed on standby in the coming days.
It will be mothballed in case a second wave of covid-19 infections emerges. Originally planned to have 4,000 beds, the east London hospital has treated just 54 patients since it was opened by Prince Charles at the beginning of April.