Mayor of London Sadiq Khan gives stamp of approval to 176 home scheme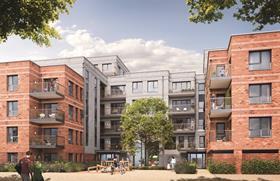 Mayor of London Sadiq Khan has approved plans for 176 home development in Hounslow West.
The scheme, which will provide a mix of affordable homes and social housing, was designed by Colwyn Foulkes & Partners for property group A2 Dominion.
The project had been granted planning consent by the London Borough of Hounslow last December.
The site, which was previously a Morrisons supermarket and has been derelict for a number of years, will be demolished.
While no contractor has been appointed, work is expected to begin in the first quarter of 2019.
Senior partner Nick Colwyn-Foulkes said: "The Mayor has made it clear that tackling London's housing crisis is his number one priority.
"Transformative developments such as this the one on the Bath Road will help provide a large number of much needed affordable homes, with 50% social housing and 50% intermediate tenures with the option to buy and rent."
The project will also include a space for an 8,000sq ft food store.