HBF also calls for certainty over future of Help To Buy as it reveals economic worth of sector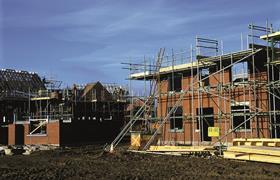 The House Building Federation has warned that despite improvements to the planning system more needs to be done to speed up the start-to-end planning process, enabling builders to get on site more quickly.
And as the HBF revealed research showing a 74% increase in housebuilding activity in the past four years, it called on the government to provide certainty on the future of the Help to Buy scheme past 2021 – the date when prime minister Theresa May extended the initiative, introduced in April 2013, to last October.
"The scheme is underpinning demand for new homes at a time that the overall housing market has slowed," said Stewart Baseley, the HBF's executive chairman. "It has helped more than 160,000 households to buy a new build home, four in five of whom are first-time buyers."
Applauding the growth in house building since 2014, Baseley said "unprecedented increases in housing supply in recent years have delivered significant benefits for UK PLC and the industry is investing in more land and people to enable it to go further and build more.
"The industry is calling on government to work with it to create the policies that will allow it to deliver the government's ambition of 300,000 homes a year in England."
The research by Lichfield for the HBF suggested house building now contributed £38bn a year to the domestic economy, supporting nearly 700,000 jobs, including 289,000 directly, as well as generating £2.7bn in tax revenues and spending nearly £12bn with the supply chain.
The HBF said if the government's target of building 300,000 homes a year was reached, house building activity would be worth a further £14.2bn and lead to the creation of 260,000 more jobs.