Federation of Master Builders warns the industry remains well below pre-recession levels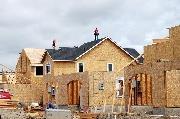 House building is spurring on the growth of the SME construction sector according to the latest figures from the Federation of Master Builders (FMB).
The FMB's latest State of Trade Survey, for the third quarter of 2014, found that workloads are growing across most sectors of the SME building market, with the fastest growth occurring in the private house-building sector.
The net balance of firms reporting an increase in new private housing work increased by 17 percentage points to 31%. The proportion of businesses reporting higher private housing workloads rose from 36% to 40% with those reporting lower workloads falling to 9% from 21%.
However despite the optimism the FMB warned that there was still a long way to go before the industry recovers to pre-recession levels.
Brian Berry, chief executive of the FMB, said there was "strong, consistent growth" in SME housebuilders' workloads but that the industry was "still a long way from being home and dry".
He said: "The private housing market is recovering from a very low base after a recession which saw housebuilding fall to record lows. Half of all SME house builders went to the wall or were forced to diversify into another areas of construction.
"In the late 1980s, two-thirds of all new homes were built by small local builders but by 2010, this had dropped to just one third. Current statistics reveal that SME house builders now deliver only a quarter of all new homes. Since the recession hit, a major factor in this has been the serious difficulties SME house builders experience in accessing bank finance, which show little sign of improving in the short term."
The number of firms that anticipated declining workloads edged lower by one percentage point to a net balance of 10%, however respondents who forecast no change in workloads increased from a net balance of 44% to 46%.