Knight Frank calls for stimulus package as it forecasts 38% drop in transactions
The number of UK house sales this year will spiral by more than half a million due to the effects of the coronavirus lockdown, according to an analysis by estate agent Knight Frank.
The firm said the volume of sales will collapse by an estimated 526,000, and will lead to a £4.4bn fall in stamp duty revenue and £1.6bn cut in VAT revenue for the government, exacerbating the likely crisis in the public finances.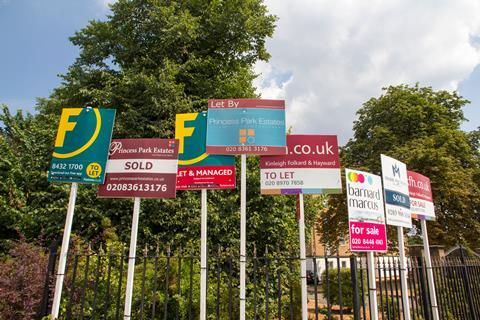 The 38% drop in transactions will also feed through into the new build housing market, with these sales typically representing around one in every 10 overall.
The firm said the fall in activity would also lead to a significant decline in mortgage lending, with 350,000 fewer loans agreed. The forecast was based on the assumption that the current lockdown remains in place during April and May, with a gradual lifting thereafter in June.
The forecast follow a prediction from Bartlett Real Estate Institute chair Yolande Barnes that transactions could fall anything between 30% and 50% in 2020 due to the crisis, forcing prices down by between 10% and 30%.
Last week, analysis by Barbour ABI, indicating that around three quarters of all housebuilding sites are currently closed, implied a drop in housing output of nearly a fifth if the lockdown lasts for three months.
Issuing its forecast, Knight Frank called for a major government stimulus package for the housing market, focused on extending the existing Help to Buy scheme – otherwise due to be significantly revised next April and cancelled entirely in 2023 – and the introduction of a Stamp Duty holiday.
The agency also said the government should offer greater flexibility around the payment of planning obligations, particularly section 106 agreements and the Community Infrastructure Levy (CIL).
Knight Frank said Help to Buy had been a "critical support" to the housebuilding sector in slower market periods, and therefore that a decision to extend the scheme would be welcomed.
Oliver Knight, research associate at Knight Frank, said the government should also look to extend planning permission lengths to ensure permission don't expire during the lockdown period.
He added: "Greater flexibility should also be encouraged with regards to the payment of planning obligations, such as section 106 and Community Infrastructure Levy (CIL) payments. Such outlays are generally paid up-front and – given expected limited cash-flow over the coming months - a move to allow practical staggering or staged payments would be welcome."
The Home Builders' Federation has already been campaigning for an extension to Help to Buy, alongside measures to extend planning permission duration. The idea of extending permissions also has support from local authority planning groups.