Latest IHS Markit/CIPS update showed growth for the first time in 2019
Construction output has grown for the first time this year, driven by the fastest rise in housebuilding so far in 2019.
According to the latest IHS Markit/CIPS the output has increased for the first time in April despite a dip in activity in both the commercial and civil engineering sectors.
The IHS Markit/CIPS UK Construction total activity index posted above the neutral 50.0 threshold for the first time since January sitting at 50.5 in April, up from 49.7 in March.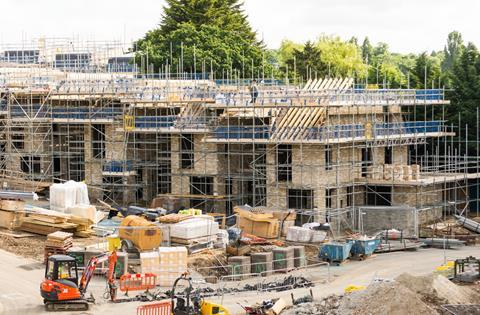 Mark Robinson, Scape Group chief executive, said while he was pleased construction output rose for the first time this year, it was obvious that "the residential sector is propping up an otherwise stagnant market".
He said: "At the same time we must make sure that the pace at which we are building new houses is not impacting on the quality of those homes. Consumer confidence in the housing sector has been knocked while the industry strives to meet government targets."
According to the report several firms linked lower commercial construction to Brexit-related uncertainty and delays with client spending decisions, while some firms commented on a lack of new work to replace completed infrastructure projects.
Robinson said: "Dragged out Brexit negotiations have so far have been abysmal, and right now further uncertainty is the only thing that the construction industry can count on. Clearly this is impacting both new orders and long-term business optimism.
"The government must take the EU's extension period as an opportunity to think outside of Brexit and consider how they can make sure the UK remains an attractive place that people and businesses alike want to live, work and grow in. This means pressing ahead with significant infrastructure projects that will inject life back into the industry and our economy."
The latest update came on the same day as RICS' latest UK Construction & Infrastructure Market Survey, which found private housing workloads were comfortably in positive territory, with a net balance of +21% of survey respondents reporting a rise in activity, up from +20% in the last three months of 2018.
Covering the first three months of this year, the report found overall confidence in the sector had fallen almost to a six-year low, while access to capital was being squeezed.