Latest RICS survey points to affordability and stock issues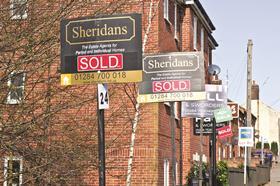 Demand from prospective home buyers fell for the 12 month in a row in March, with the blame being pointed at affordability issues and a lack of stock coming to the market.
The latest RICS UK Residential Market Survey found that interest from would-be buyers continued to wane, with 17% more respondents seeing a fall rather than rise over the month in a trend dating back to March 2017.
Last month saw the flow of properties slow again, marking the seventh consecutive month respondents reported a fall in the number of houses being put up for sale.
Sales also continued to fall in March, with 20% more respondents reporting a fall rather than rise, extending the run of negative readings stretching back to February 2017.
When it came to prices London saw the weakest feedback, with a net balance of -47% of respondents citing further declines. Respondents in the South East, East Anglia and the North East, also reported prices to be falling but not by as much as the capital.
RICS said prices continued to drift higher across all other parts of the UK, with Northern Ireland, Wales and the East Midlands seeing the strongest readings.