Latest figures from building control records show rapid recovery in output during quarter three 2020
Housing completions nearly tripled in the third quarter of the year as the housebuilding industry attempted to bounce back after the market was closed during the spring coronavirus lockdown.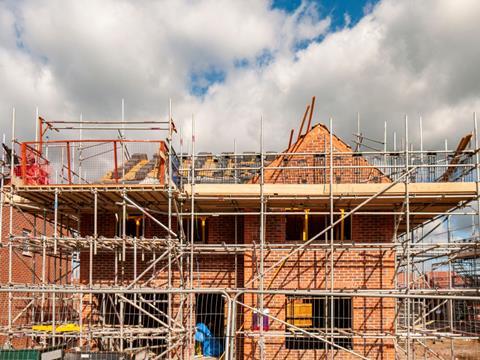 The latest government figures from building control registrations, which don't cover the whole of the market but are seen as strong indicators of trends, found that 45,000 homes were completed in England between July and September, an increase of 185% on the low of 15,790 completed between April and June.
The figures also show a strong bounce back in housing starts in the third quarter, with starts more than doubling to hit 35,710 in the period, a rise of 111% from the lockdown low in the second quarter.
Housing Secretary Rt Hon Robert Jenrick MP said the recovery reflected the government's commitment throughout the pandemic to support the industry and enable construction sites to remain open and operate safely.
He said: "We extended planning permission deadlines and flexible working hours on sites so that builders, architects and developers have been able to continue working, while following public health advice. In turn this has protected millions of jobs, from builders, through to estate agents and carpenters."
However, the figures show that both starts and completions for the third quarter remained below the figure achieved in the same period in 2019. While completions were just 1% below the 2019 third quarter figure, as housebuilders rushed to complete homes started prior to lockdown, starts were significantly lower than 2019.
The seasonally adjust figures compiled by the MHCLG found that third quarter starts were 8% down on 2019's figure of 38,910 – well below the average seen in recent years.
The figures also indicate the likely scale of the hit to housing production across 2020 as a whole from the pandemic, despite the strong third quarter bounce back. The figures show that completions for the calendar year to September, of 101,630 homes, were 24% down on the same period in 2019.
Likewise, starts to September were, at 86,430, 26% down on 2019.