Brandon Lewis speaks exclusively to Building about the government's pledge to build 275,000 affordable homes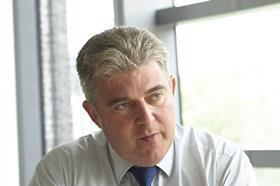 Housing and planning minister Brandon Lewis has said the decision to cut the rents social landlords can charge will be easy for them to deal with and shouldn't affect the number of homes they can build.
Brandon Lewis (pictured) said the decision by chancellor George Osborne in this month's budget to rip up his 2013 ten year rent settlement for housing association registered providers (RPs) and force them to reduce rents for four years, wouldn't pose "too much of a challenge".
A number of housing associations have reacted furiously to the policy change, which the NHF estimates will leave the sector with £3.9bn less than forecast in rental income over the next four years, and therefore reduce the amount they can borrow to fund development. The Office of Budget Responsibility said the move would reduce RPs' build programmes by about 10% across the parliament, costing 14,000 homes, while the sector's trade association the National Housing Federation (NHF) said the change would cost "at least" 27,000 homes.
However, speaking exclusively to Building, Lewis promised the government will deliver on its pledge to build 275,000 affordable homes over the parliament and challenged RPs to build even more homes. His comments were made as research by agents Savills and JLL was released showing the rent change could reduce the value of social homes by 20-30% and "considerably" impact development programmes.
Lewis said: "Asking them [RPs] to make a saving of 1% a year, for a sector that made substantial surpluses last year, I don't think should be too much of a challenge. There are associations there that can comfortably rise to that challenge, and find their efficiencies and still deliver homes.
"There are some housing associations doing some phenomenal work out there. [But] would I like to see more associations building more homes? Absolutely yes. I'd like to see all associations developing and building homes for people. Bear in mind local authorities have done a phenomenal job over the last few years of finding savings and delivering more council houses. I think that proves you can be efficient and deliver homes," he said.
He said social sector rents had increased at double the rate of the private rented sector over the last parliament and the move simply "reset that baseline."
Lewis also defended the proposed extension of Right to Buy to housing associations, and called on housebuilders to do more to sell the industry to young recruits, acknowledging that the current shortage of skills was "number one challenge people have got."
Adam Morton, policy leader at the NHF, said "For almost all RPs it will reduce their capacity to develop more homes."