The Conservative government is pushing forward a radical policy agenda - nowhere more so, perhaps, than in housing. Building talks to housing minister Brandon Lewis about his ambition to promote home ownership, the housing association fallout and ditching the zero carbon homes target. Photography by Julian Anderson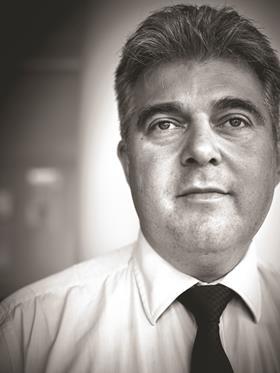 Walking into the communities department's home at 2 Marsham Street, it's fair to say there's no shortage of things to talk to housing and planning minister Brandon Lewis about. Since the new government was formed just three months ago the industry has already seen a huge shake-up in the policy agenda.
While the planned extension of the right to buy policy to housing associations was at least contained in the party's manifesto, the abandoning of the zero carbon policy and the ripping up of the housing association sector's 10-year rents settlement most definitely weren't. There have also been big proposals to reform the planning system, reductions in tax breaks for residential landlords, and - linking all the changes together - a shift to promoting home ownership, seemingly over and above other tenures.
But if Brandon Lewis (pictured) is at all disconcerted by all of this upheaval - some of it flagged, some of it unexpected - then he gives no sign. He certainly doesn't think he has anything to apologise for.
Justifying the shake-up is the data on home ownership. According to census returns, home ownership has been going backwards, and is - at 64% - at its lowest level since the 1980s. Meanwhile, Lewis says just as many people as ever desire "that very British aspiration: to own our own home".
But with housing associations raising fears that the right to buy extension will stymie their development plans, and some commercial developers concerned at the lack of policies to support the nascent professional private rented sector, some are questioning whether the home ownership drive could actually undermine efforts to deliver more new houses of any type.
Great Yarmouth MP Lewis, who has been in post just over a year and was rumoured to be in the running for his department's top job before the appointment of Greg Clarke, is matey and affable in person. The former barrister talks quickly but clearly, in a voice that speaks more of his east London upbringing than the private school in Walthamstow he attended. A close friend of former communities secretary (and boss) Eric Pickles, Lewis for a time ran the Eric and Brandon show, a local radio phone-in programme with the Brentwood MP, and appears to share Pickles' brand of business-friendly working class Tory populism.
His Marsham Street office, which the department moved into last summer, is an appropriate home, both as an embodiment of austerity (the communities department shares with the Home Office to save £220m), and because it was conceived by Sir Terry Farrell - the Conservatives' favoured architect, and the man whose designs are set to pop up on the 200,000 starter homes promised by the government.
Defending the coalition record
Despite all the recent policy changes, Lewis defends the coalition's record on housebuilding. He says that after inheriting "the lowest level of housebuilding since 1923 in peacetime," products such as Help to Buy and the reforms to the planning system under the National Planning Policy Framework have re-established the housing market. While the coalition was criticised by many - not least its own business secretary Vince Cable - for doing too much to stoke housing demand while not doing enough to boost supply, Lewis says there's been a balanced approach.
"The priority is to get more homes built for people who need them in the places they need them to the quality and style that they want," he says. "[We're] making sure on the supply side we've got the menu of options - from the builders' finance fund, to the phenomenal work done in simplifying the planning statement down from thousands of pages to the 52-page National Planning Policy Framework (NPPF) - to look at what's right for you if you're a small builder, medium or large."
The latest measure designed to free up the supply side was announced just last week, with councils to be given until January 2017 to pull together their local plans, or face the government stepping in and taking over.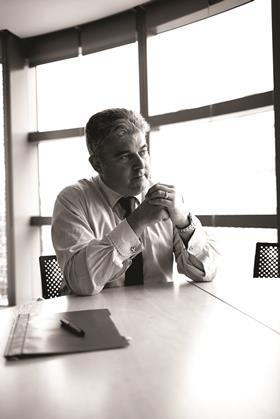 All this has led, he says, to record planning approval levels, with 260,000 recorded in the last 12 months, and, he claims, build rates which will rise 10% this year and have "come up consistently since we came in in 2010".
This last part isn't actually true - English housing completions continued to fall sharply in the first years of the coalition, and by the end of 2014 had still not yet recovered to their 2009 level. Housing starts in England were also up and down, falling in 2012 - but there's no disputing his overall contention, with starts now more than 40% above the 2009 level, that a revival in housing construction is under way.
This delivery record is, he says, in no way jeopardised by the impending move to force housing associations to offer their tenants the right to buy. It's fair to say this policy has had a frosty reception. While housing associations might be expected to squeal, polls suggest it isn't popular with the public and the Daily Telegraph too branded it "economically illiterate" and "absurd". But for Lewis right to buy is "the fastest way to social mobility this country has ever seen," and he says those that question its impact on housing construction "misunderstand how the system works".
"Actually right to buy drives supply up. We've been very clear there'll be one-for-one replacement. So if you've got a home that is sold through right to buy, first of all that home still exists - people talk as if it's disappeared from the housing market - plus that home is replaced.
"It does give [housing associations and councils] a chance to […] go and build something else with the money. Housing associations' raison d'etre is to provide homes for people, so I'd like to think they'd be supportive of seeing more homes built."
Of course most are sceptical that homes sold will be replaced on a one-for-one basis. The government claims that under Labour only one home was built for every 170 sold under the council right to buy policy, and housing associations say over time this kind of failure to replace would reduce their asset stock, making it harder for them to borrow the money to build.
As evidence it can be done, Lewis says the government is on course to meet the commitment to replace each home under the revamped council right to buy scheme launched in 2012 - however, the fact is that currently more than 3,000 council homes are being sold every quarter, whereas only between 400-500 new ones are being built.
"We've said if at the end of that three-year period they [housing associations] haven't done that one-for-one replacement, the money comes back to central government with interest and the Homes and Communities Agency will build those homes. One way or another there will be one-for-one replacement."
Asking registered providers to make a saving of 1% a year, for a sector that made substantial surpluses last year, I don't think should be too much of a challenge
"It's for them [registered providers] to decide. It's their chance to be part of something really quite exciting here, to deliver more homes and to help people into home ownership."
While housing association registered providers (RPs) may have been expecting the right to buy change - details of which will be published in the autumn Housing Bill - many were stunned by the about-face on rents, with chancellor George Osborne last month saying they will have to reduce rents for tenants by 1% per year over the next four years. It was only in 2013 that he had committed to allow them to raise rents by 1% plus CPI inflation every year for the next decade. This generous rent settlement was partly meant to offset falling grant rates for RPs, which have left many almost entirely reliant on private borrowing to fund development. While Lewis says the government is still committed to building 275,000 affordable homes in this parliament, and will keep funding homes for affordable rent, this reverse has left a number of RPs nursing multimillion-pound holes in their business plans. The Office of Budget Responsibility put the cost in terms of homes at 14,000, with the National Housing Federation saying it would stop construction of at least 27,000 houses over the parliament.
Lewis, though, is unrepentant about a move he says is good for social housing tenants. He says their rents have risen at twice the rate of the private sector in the last five years. "Asking them (RPs) to make a saving of 1% a year, for a sector that made substantial surpluses last year, I don't think should be too much of a challenge," he says. "There are associations there that can comfortably rise to that challenge, and find their efficiencies and still deliver homes."
In fact he wants the sector to do more. "There are some housing associations doing some phenomenal work out there. [But] would I like to see more associations building more homes? Absolutely, yes. I'd like to see all associations developing and building homes for people."
Starter homes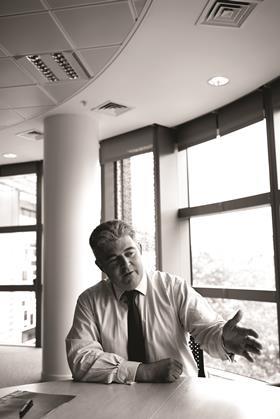 The home ownership drive means the manifesto pledge to build 200,000 starter homes, sold to first-time buyers at a 20% discount to the market rate, is where his prime new-build focus is.
Whereas before the election the Conservatives talked about putting the homes on former industrial sites and surplus public land, earlier this month it was made clear they will expect all "reasonably sized" sites to include a proportion of them. It sounded to some as if starter homes could be a new "affordable housing" obligation on private developers. Lewis refuses to clarify what will be meant by "reasonably" sized, or how they will be incorporated on private developers' existing large sites, and says the detail will be revealed in the housing bill. With the Terry Farrell-led starter home design guidelines published before the election, he is certainly adamant they won't be second class homes. He says: "We are talking about very high-quality well-designed properties. I'm sure many of us would love to live in a Terry Farrell or Quinlan Terry-designed home - so I'm very confident these are going to be homes people are going to love and enjoy and be family homes for generations.
"It's quite a simple premise, but it's a huge step in making sure people who want to get on the housing ladder have a better chance to do so, which I think is the right thing to do."
And if Lewis may want to challenge housing associations, he is aiming to make life a little easier for private housebuilders, which he says don't need regulation to improve the way new places are designed. He says they have already made "a big step forward" in design quality in the last few years, and he wants to take away "process" red tape. "There's an in-built incentive for developers of all types - private and public - to build places they're proud of and they should be doing that," he says.
Changes and challenges
This was also behind the decision to ditch the target for new homes to be zero carbon, just nine months before the deadline. Some housebuilders have applauded this decision, while more than 200 senior figures in the construction industry backed a letter criticising the government for this last-minute change. "We want to have a sensible system where there aren't barriers to entry. So that the big six or seven developers are looking over their shoulders at who's going to become the next Taylor Wimpey, the next Persimmon. We've got to make sure we haven't put in barriers to entry that stop that happening."
The one place where he will challenge housebuilders - and the construction industry more widely - is over skills. He accepts that this issue, rather than planning, is now the major barrier stopping growth in housing delivery, but stresses that while the government has pledged 3 million apprentices this parliament, and is keen to push off-site construction, the industry itself must do more to address it. "I think the industry itself has got to rise to the challenge - and talking to them they accept that - about selling construction and housebuilding as a really exciting career. So people who are now in secondary school, looking at GSCEs and A-levels, start thinking about construction as a conscious career path."
For now, all eyes are on what the Greg and Brandon show delivers in the shape of the housing bill this autumn.