Company warns it might not be until next year before deal for Kier Living is done
Kier has admitted it might not be until next year before the firm finally gets rid of its up-for-sale housing business.
The division, called Kier Living, was put on the block last June with analysts hoping for news on a sale by Christmas.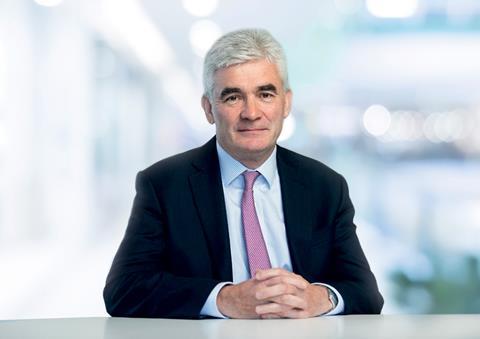 Chief executive Andrew Davies (pictured) took the decision last summer to sell the £350m-plus turnover business in order to eat into the firm's debt pile.
But announcing its interim results for the six months to December this morning, Kier said it had now classified the business, which employs around 550 people and operates from five regions with bases including Leeds, Solihull and Marlow in Buckinghamshire, as discontinued and added: "This business is expected to be disposed of within the next 12 months. There is a new management team in place and the sales process is progressing."
Kier said the housing business made a £4m profit in the six months, down from £9m last time, but this was wiped out by £59.5m of exceptional items.
The sale is key to Davies' hopes of getting its debt pile down. The firm said average month-end net debt for the period was £395m, down £27m from the figure posted in its 2019 full year accounts.
Kier said it had racked up a further £71.1m of exceptional items during the period which included nearly £17m of redundancy costs which has seen 1,200 people leave the business since Davies, who was appointed last April, announced the results of a strategic review two months later. It added that it expected a further 50 staff to go by the end of June.
It said had begun the process to move out of its historic home at Tempsford Hall at Sandy in Bedfordshire and added that it has now left its London headquarters at Foley Street.
It added that it has spent £18m on the review and a further £7.4m on preparing the businesses it wants rid of for sale. These also include its property, FM and environmental services arms which between them saw revenue slip 15% to £233m.
The firm is now focussing on construction, which includes its regional building and housing maintenance businesses, and infrastructure, which includes its highways, rail and utilities businesses.
Revenue at construction, its largest division, slipped 7% to £844m with operating profit down 21% to £28.8m before exceptional items. And revenue at infrastructure also fell, down 10% to £783m with operating profit before exceptional down a third to £27.6m.
Group revenue was down 8% to £1.8bn with pre-tax losses narrowing from £45.3m to £41.2m.