Two lots will run for up to eight years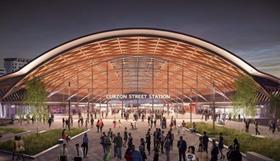 HS2 is searching for two consultants to carry out management and cost monitoring work worth a combined £230m over the next eight years.
Lot one of the Commercial Delivery and Controls Framework is for a firm to oversee the delivery of work which includes building a new train station at Curzon Street (pictured) in the middle of Birmingham.
The winner for the £125.5m lot will also have to support cost management across the project.
Lot two is worth £104.5m and will see the winning firm carry out commercial management and cost verification services.
The appointed supplier to each lot will have work packages awarded to it on an ongoing basis.
Firms will only allowed to be appointed to both lots if they are a non-leading partner of a JV in each.
HS2 will invite six candidates to tender for each lot, with assessment weighted 75:25 towards quality over cost. The contracts will last for four years, with a possible extension of another four years.
Interested parties must register their interest by 24 April, with invitations expected to be sent out on 3 July.