Report says Cabinet review could see another department take control and Manchester extension cut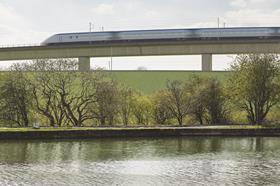 HS2 could be taken off the Department for Transport's hands and its extension to Manchester axed amid concern over spiralling costs on the £55.7bn project.
According to the Telegraph, officials in Whitehall are considering delaying or even abandoning the HS2 extension to Manchester over concerns that cuts already mooted won't save enough money.
Cabinet secretary Sir Jeremy Haywood and Treasury officials are reportedly conducting an urgent review of HS2 and could chuck the Department for Transport (DfT) off the scheme after it was deemed to have lost control of the project.
The first phase of HS2 from London to Birmingham is expected to open in 2026, with a stretch of the line to Crewe set to open in 2027 and the second phase to Manchester due for completion in 2033.
If the extension to Manchester is scrapped, trains would join the existing line from Crewe for the last 35 miles of the journey.
The Telegraph also reports that costly tunnels designed reduce the environmental impact on the Chilterns and West London could also be cut to save money.
A spokesperson told the newspaper: "The Treasury have come to the meetings [with us] with the view that nothing is ruled out. They want to be much closer to HS2 – from their side they feel that DfT overlooking the project is not working.
"We are putting in £12 billion of contracts this summer and I don't think the Treasury are entirely happy that safeguards are in place."