Railway proposes back-up framework to avoid having to retender job again
HS2 will put together a framework of losing bidders for its £570m Curzon Street station job in Birmingham under plans to safeguard itself from having to shell out on possible retendering costs.
The scheme, which is being planned for a site behind the city's Bull Ring complex and adjacent to the existing Moor Street station, is being tendered for a second time after contractors told the railway last year it was expecting them to take on too much risk.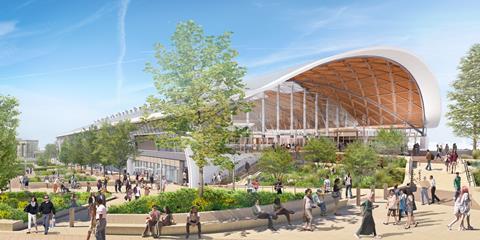 "We were happy to give them a quote [first time around] but we told them it would be a high one," one source told Building.
The original cost of the job was £435m but has now gone up one third after the contractors' cold-shoulder forced HS2 into a rethink over its procurement strategy.
The railway is looking to avoid a repeat of last summer with the two-stage design and build job also including proposals to set up a framework agreement for unsuccessful bidders.
Building understands HS2, which expects to shortlist no more than five firms this summer, wants the framework to be an alternative should it be unable to reach agreement with its preferred contractor at the end of the first stage. "This will mean they don't have to go back to the market and start all over again," a source said.
Laing O'Rourke has already said it is interested in the job but warned it will not bid it if it deems there is too much risk attached. It dropped out of bidding the £1.5bn Euston scheme, eventually won by a Mace/Dragados team, because of worries about onerous contract terms.
HS2 has confirmed there are no rules which forbid Mace/Dragados and the winner of the Old Oak Common station, a team led by Balfour Beatty, from bidding to win work on other stations planned for the first phase. Clauses in the bid documents for the two London stations stipulated they had to be won by separate teams.
The Curzon Street site has already been cleared by a Laing O'Rourke/Murphy team which is working on HS2 contracts in and around Birmingham.
A contract notice for a second Birmingham station, called Interchange and which will be built on a greenfield site in Solihull, is due out in May.
Yesterday (Sunday), Brexit secretary Stephen Barclay told the BBC his "gut feeling" was HS2 will get the go-ahead. "[The government has given a] clear commitment to level up all parts of the UK…HS2 plays an important part in that."
An official decision on the scheme has not yet been made public but industry sources are expecting news before chancellor Sajid Javid's budget on 11 March, just over six weeks' away.