Curzon Street project was previously worth £435m
HS2 has restarted its search for a contractor to build the £571m Curzon Street station in the heart of Birmingham. It has increased the value of the project by £136m seven months after it cancelled its previous procurement process.
Last June the railway scrapped the proposed deal, which was then worth £435m, after concluding that it needed to rethink its approach to risk.
It said it would launch a "revised strategy" for the Grimshaw Architects-designed scheme, under which less risk will be passed on to the station's design and build contractor.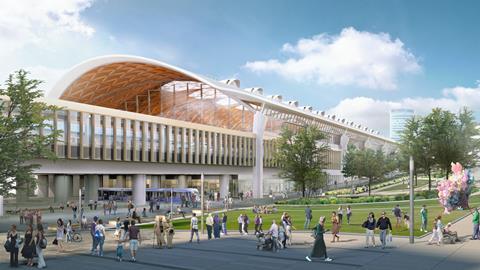 It added: "HS2 has recognised the current market conditions are challenging and the increasing concern regarding risk transfer. We wanted to revise our position to provide a better balance and overall outcome.
The search for a contractor is now underway again and the value of the deal has risen by 31%.
In a contract notice published to the Official Journal this morning HS2 said the contract would run until January 2028.
"The contractor will be appointed to design and build the new Midlands station to budget and programme, including detailed design, construction and commissioning and associated works and services.
"As well as awarding the contract, HS2 Ltd will also enter into a framework agreement with unsuccessful tenderers whose technical submissions at ITT [invitation to tender] stage achieve a minimum threshold evaluation score."
HS2 said it would reserve the right "to step-in and rescue and step-out or to step-in to the contractor's appointment following a termination and to step-in to subcontracts as employer".
Firms have until 12 March to register their interest. Four or five shortlisted bidders are due to be notified by 1 July.
Building revealed this week that Laing O'Rourke was interested in bidding for the Curzon Street project.
Contracts have already been awarded on HS2's London stations. A Mace/Dragados team is working on Euston and a joint venture between Balfour Beatty and Vinci has the contract for Old Oak Common.
In November HS2 began to test the waters with contractors interested in building HS2's Interchange station in the West Midlands, announcing that it would start the race for works in May.
Procurement for work on the track and overhead system and for tunnel and lineside M&E work was also paused to allow the railway to revise its approach to risk – something it has now done, according to the National Audit Office.
In a report released this morning the public spending watchdog said contractors had been contractually obliged to cover 60% of any cost increases above a target price, but HS2 has now changed this.
"To incentivise contractors to deliver, HS2 will agree performance indicators, including on cost and schedule," the watchdog said.
"If contractors do not meet the required performance, they will lose a proportion of their fee. HS2 has provided contractors with the potential to claw back lost fee payments if they can demonstrate improved performance."
The independent review of HS2 carried out by Doug Oakervee is set to be published next month.