Chancellor George Osborne calls on contractors to begin pre-qualifying for seven major civils work packages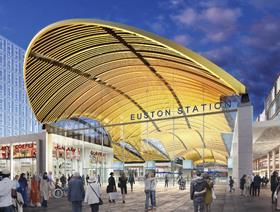 Chancellor George Osborne has launched the bidding process for £11.8bn of major civils works for HS2 phase one.
Contractors are being invited to pre-qualify for seven civils packages split over three geographical areas - north, central and south - along the phase one route from London to Birmingham.
Following the PQQ stage, successful applicants will be invited to bid for a maximum of 4 packages at tender stage, with a maximum award of up to 2 contracts per tenderer.
The civil contracts are the first tranche of the main works packages and cover surface routes and tunnels. 'Tranche 2' comprises stations, and 'Tranche 3' comprises railway systems. These will be launched in 2016 and 2017.
Construction works will commence following Royal Assent of the Phase 1 Hybrid Bill, which is currently being considered by Parliament.
The Chancellor made the announcement at an event in Chengdu, China, where he is aiming to woo some of China's biggest investors to be part of the project, as well as a raft of other major UK infrastructure projects.
Osborne also announced a new 'HS2 partnering day' between British and Chinese firms to explore joining up on bids for contracts. The Chancellor is also inviting Chinese participation in the HS2 skills college, which is due to open in 2017.
Osborne said: "We are truly entering a golden era of cooperation between our two countries, and it's crucial that businesses and communities from across the UK feel the full benefit of forging closer economic links with China."
Transport secretary Patrick McLoughlin said: "The start of the procurement process for these significant contracts is a major step towards construction on HS2 getting underway in two years' time and a massive opportunity to help rebalance our economy long before the trains start running in 2026."
"HS2 Ltd chief executive Simon Kirby said: "Over the next decade, the winners of these contracts will go on to build 230km of bridges, tunnels and earthworks and create thousands of jobs across the construction industry."