Infrastructure client launches recruitment drive in central Birmingham for over 100 engineering and management specialists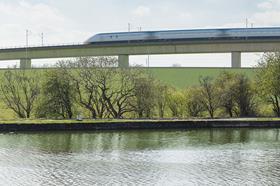 HS2 Ltd has started a recruitment drive for more than 100 specialist jobs in Birmingham.
The infrastructure client is looking for specialists in civil, rail and site engineering, project management, corporate procurement, contract and commercial management, health and safety, accountancy, HR, IT and legal.
HS2 is holding a two day Careers Fair in central Birmingham this month, where interested parties will be able to find out more about the project and the job opportunities on offer, as well as talk with staff currently working on HS2.
HS2 Ltd chief executive, Simon Kirby, said: "Getting the right people with the right skills and experience is vital to HS2's success which is why we are recruiting now for a wide variety of specialist roles based in Birmingham, at the heart of the HS2 network.
"We would like to attract the best talent from across the country to work on HS2, Britain's largest infrastructure project, and to encourage greater diversity among those entering a career in engineering, construction and the built environment."
It comes after representatives from HS2, the Northern Ireland Assembly and Invest Northern Ireland met with Northern Ireland companies, urging them to bid for £10bn worth of contracts for phase one of the project.
HS2 Ltd commercial director, Beth West, said: "To deliver a project of HS2's scale and complexity requires the right companies with the right skills.
"I'm extremely pleased that so many local firms have already shown an interest and I'd like to encourage all Northern Ireland businesses large or small to get involved with HS2."