Railway has spent £100m on adding filters and pumps to local pumping stations
HS2 teams digging the 16km tunnels beneath the Chiltern Hills have the "right tools for the job" to stop water supplies being contaminated amid concern from local groups, the railway's senior project manager has said.
Mark Clapp said that "a lot of science" has gone into preventing water supplies being impacted by the risk of chalk dust leaking into underground aquifers during the works, which are being dug by the biggest tunnel boring machines ever used in the UK.
He has previously admitted that there was "real nervousness" on the part of the Environment Agency and local water supplier Affinity Water over the risks.
Both organisations have signed off the tunnelling works after HS2 agreed to fund £100m worth of added capacity to local water treatment plants to maintain the quality of local supplies.
While chalk dust is not a health risk, it can clog pumps at pumping stations. HS2's money is being used to fund new filters and pumps at three nearby water stations to prevent them from being clogged by chalk dust generated by the 2,000 tonne, 170m long tunnel boring machines (TBMs) digging through the solid chalk beneath the Chilterns.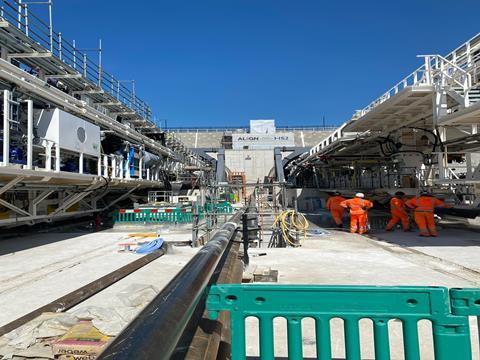 A fourth pumping station will be closed down during the peak of construction, although HS2 said that this will not affect water supplies because of the new capacity being added.
Clapp had admitted that teams were facing a "significant challenge" with the terrain along the route of the tunnels, which had in some places "literally washed away", leaving holes in the ground.
He said two machines at the front of the TBMs can pump quick-drying mud into any voids encountered during tunnelling to act as a seal, preventing leakages of chalk dust.
The mud, a mix of mined chalk, water and additives used to speed up the setting process, would then "freeze" around the machines within 15 minutes.
Chalk, which underlies large swathes of southern England, is a soft and highly porous form of limestone composed mostly of the microscopic shells of ancient plankton.
A spokesperson for Affinity Water previously said that it had taken "significant steps" to protect the water sources from harm. Last week, Peter Miller, HS2's environment director, said: "People living near the route can be reassured that HS2 Ltd is working very closely with the Environment Agency and the local water company to ensure their water is safe and in good supply."
The work to build both the Chiltern tunnels and the 3.4km long Colne Valley viaduct is being carried out by Align, a joint venture between Bouygues, Sir Robert McAlpine and VolkerFitzPatrick.
The first tunnel boring machine, named Florence, was launched last month with the second machine, known as Cecilia, due to be launched before the end of June.